Wednesday, April 4th, 2012
Marion teacher named one of top 25 in nation
By William Kincaid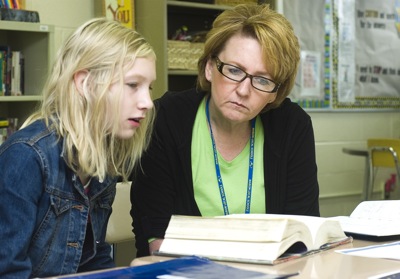 MARIA STEIN - An overwhelming community response has resulted in Marion Local teacher Julia Sommer's being named one of 25 finalists for the "Best Teacher in America" award.
The grand prize winner will receive a $25,000 school technology grant, 30 iPod Touches and an iPad for their district. The Technology in Education Grant is administered by Worth Ave. Group, an electronic device insurance provider.
Sommer, a fifth-grade teacher who has worked in the district for six years, learned she was a finalist in early March after receiving enough online votes.
"I mean, it's the nation," she said about accumulating enough votes.
Sommer was nominated by her fellow teachers. School officials then launched a cheerleading initiative through Facebook and school newsletters to encourage community members to vote for her. The deadline to cast a vote was Saturday. The top vote-getter amongst the finalists will be announced April 16.
"It says everything about the community," Sommer said about getting enough votes from a rural area to qualify her as a finalist. "It's a great school to work for."
Superintendent Mike Pohlman agreed.
"It shows how much they value education," he said of the community.
He added that in these tough economic times, school officials are actively seeking opportunities to fund technology.
"We implemented a one-on-one computing initiative; we started that in the fifth grade, and it keeps moving up," Pohlman said. "Julia does an outstanding job with implementing lessons with her curriculum and having students use this to enhance their learning."
Fifth-graders receive inexpensive laptops from the district, which they use to take tests, learn vocabulary and access texts online, Sommer said.
"We really, really pushed the fact they have to be responsible for them (the computers)," she said.
The devices also have helped with student engagement and motivation.
"In education, you have to change with the times," she said.
Computer literacy is paramount for college preparation and almost every job, Sommer said. Also, new state standards being updated for 2014 may include computer assessments instead of using paper and pencil tests, she said.
Sommer said continually updating technology is a challenge. Teachers are held accountable for demonstrating student growth through technology, she added.
"She has done a phenomenal job and has been a big part of this initiative," Pohlman said.