Wednesday, April 4th, 2012
Celina opens league play with loss to Elida
By Gary R. Rasberry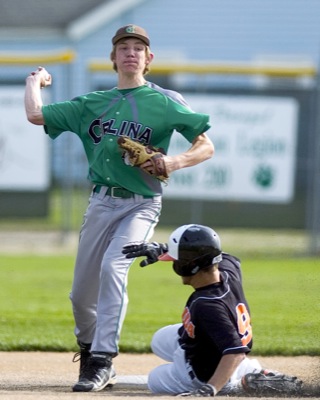 CELINA - Walks haunted Celina's baseball team on Tuesday night in the Western Buckeye League opener against Elida at Montgomery Field.
Three of the six walks issued to Elida's batters came around to score, which was enough to hold off Celina for a 5-2 win in a battle of Bulldogs.
Celina (5-2, 0-1 WBL) struggled offensively with just four hits. Elida's pitchers issued seven walks, but Celina had two runners caught stealing and another baserunner miscue came on a line drive that turned into a double play.
Celina's head coach Drew Braun was a little concerned with what he saw from his team against Elida.
"I didn't feel like the Celina Bulldogs competed like they did last week," said Braun, a note to the team outscoring their first three opponents 24-3 and winning five of their first six games. "I was a little disappointed with our approach to the whole game tonight. I saw a little bit of that last night (Monday's 4-3 win over St. Henry in eight innings) and were able to get by. This is two times in a row where I've been a little disappointed with our approach. We're definitely going to have to get something figured out.
"I don't think by any means we quit. We just didn't compete the way I think a Celina baseball team would want to compete," added Braun.
An error and walk issued by Celina's Kyle Berry in the third inning brought home Elida's first two runs, as Mackenzie Hampshire belted a double to left-center scoring Adam Purdy and Dalton Martz.
Elida's next two runs came when Kerry led off the fifth with back-to-back walks to Purdy and Martz again. This time, Braun pointed Hampshire to first on the intentional walk to get to Nickoli Sackinger, who was 0-for-1 at that point. Sackinger promptly singled to centerfield to bring home two more runs for Elida.
Celina struggled against Elida's pitcher Jake Porter. Through six innings, Celina had just three hits and were walked four times while Porter struck out seven.
In the seventh inning, Berry doubled off Porter and Aric Fickert and Riley Luebke drew back-to-back walks to load the bases. Martz, who beat Celina a year ago, went to the mound in relief of Porter to try and close things out. Martz balked, allowing Berry to score and end the shutout. Then after striking out Alan Golden, Martz walked Scott Butz to load the bases for Shawn Stachler.
Stachler lofted a fly to foul territory in leftfield with Elida's Taylor Bly making the catch as Fickert tagged up and went home. Butz tried to advance to second, but was thrown out to end the game.
Hampshire went 3-for-3, adding a RBI double in the top of the seventh for the final Elida run.
"That young man can flat out hit the ball," said Braun.
Celina is back in WBL action on Thursday, traveling to Bath to face the Wildcats.