Tuesday, April 17th, 2012
A hankerin' for hops
Local man grows unusual crop near Fort Recovery
By Betty Lawrence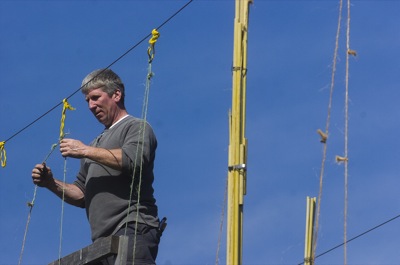 FORT RECOVERY - Mercer County has an abundance of corn, wheat and soybeans. But what about hops?
Andy Pax of Fort Recovery, an adventurer at heart, has been tending an experimental field of hops, the key ingredient in beer, at a rural Fort Recovery farm for four years.
"I watched a National Geographic program on growing hops, and I thought, why not try it here," Pax, 45, said.
His initial start of 20 plants purchased from a hops dealer in Washington has grown to nearly 500 plants. He grows two varieties - the Nugget, which is a bitter hops, and Cascade, a flavoring hops.
Hops are the female flower cluster (seed cones) of the vining hops plant and are used primarily as a flavoring and stability agent in beer.
Each spring Pax climbs atop a custom-made scaffolding that sits on top a hopper wagon. It boosts him up so he can attach twine trellises between 18-foot tall poles lined in rows. The vining hops plants will climb up the trellis, and at harvest time, usually around Labor Day, the trellises are cut down with the plants still attached.
"We then take them into a building, and they are dehydrated before we extract the hops," Pax said, adding family members pitch in.
The bright green hops are bagged and frozen, ready for use. His customers are home brewers.
Pax touts that his business, Heartland Hops, is strictly organic.
"I do not use herbicides or pesticides," he said while traipsing up and down the hopper wagon and scaffolding to attach nearly 10 miles of twine trellis for this year's crop.
"That's probably the hardest thing about growing hops. It is very labor intensive," he said. "The second thing would be bug and weed control. I do everything organically, and it can be difficult to keep the bugs and weeds in check."
The largest hop-growing areas in the U.S. are in the western states of Washington, Oregon, California and Idaho. Germany is the leading country in hops cultivation.
Pax, ever on the lookout for a new adventure, said he thinks he will continue his hops experiment a few more years.
"Right now, it's too early to tell how long I will do this. One of these years, when my little granddaughter grows up, I plan to walk the Appalachian Trail with her. Till then, who knows," Pax said before climbing back up on the hopper wagon.