Tuesday, April 17th, 2012
Panthers erupt for six runs in third
By Gary R. Rasberry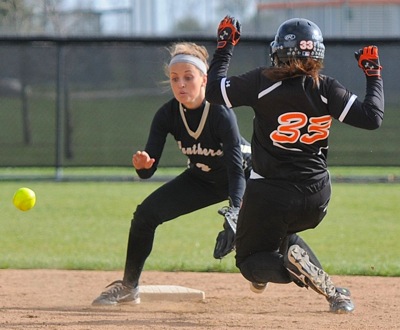 MINSTER - Except for one shaky half of an inning, Parkway and Minster engaged in a pitcher's duel during a key Midwest Athletic Conference softball game on Monday.
The Panthers scored all of their runs in the third inning and that was more than enough as pitcher Sierra Fent had her fastball rolling to help guide Parkway to a 6-2 win at Four Seasons Park in Minster. It's the third straight loss for the Wildcats (13-5, 1-1 MAC).
Minster's pitcher Kayla Richard and Fent dominated the early action. Richard had strikeouts on five of the first six outs of the game, allowing only one baserunner when she plunked Fent with a pitch. Fent countered with a four-strikeout first inning, as the first strikeout was dropped to allow Nicole Brandewie to reach first, and allowed just two walks over the first three innings.
Parkway (11-4, 3-0 MAC) finally got to Richard in the third inning as seven straight Panthers' batters reached base safely and led to six runs. With one out, Richard walked Kayla Walls and Olivia Smith singled before Taylor Walls singled up the middle to score both runs to make it 2-0 in favor of the Panthers. Fent helped her own cause with an RBI triple to make it 3-0 and later scored on Kylie Snyder's RBI single. Snyder scored on a fielder's choice and Lindsey Walls, who was hit by a pitch after Fent's triple, scored on a passed ball to cap the six-run frame.
"One bad inning," said Minster's coach Scott Robinson. "We made some uncharacteristic mistakes. When Kayla is technical and keeps that stuff straight, she's a tough pitcher. She showed that tonight (striking out nine and walking two). We had the one bad inning. Take that away, we played them pretty good."
After the third, Richard got back into form, allowing just one hit and retiring the final 10 batters in order.
"Offensively, we put it together that one inning," said Panthers' skipper Mark Esselstein. "Minster has a heckuva team. Kayla was hitting her spots most of the game, but we were able to take advantage in the one inning we got baserunners on."
Six runs was more than enough for Fent, who struck out at least two batters in each of the first five innings and held the Wildcats hitless until the top of the seventh, when Jayden Hahn singled over second base to spoil the no-hitter. Fent made things interesting by loading the bases and eventually letting two runs score, one because of a wild pitch, but catcher Zoey Pond ended the game by firing a bullet down to second to catch a stealing Marissa Conrad.
Fent finished with 14 strikeouts to go along with five walks while earning the win for the Panthers.
"She dominated, and our defense, when (Minster) put the ball into play, played great defense," said Esselstein. "Just real pleased. Sierra has a way of getting to three balls (in the count) too many times, but she has a way of making pitches when she needs to make them. I'm just tickled for her."
"We're a little young, so early on, I think they were a little bit awed by her speed," said Robinson of Fent. "You can't do that, because she was in their head from the beginning."