Tuesday, April 24th, 2012
Muddin' for a cause
Obstacle course event will raise money for Red Cross
By Shelley Grieshop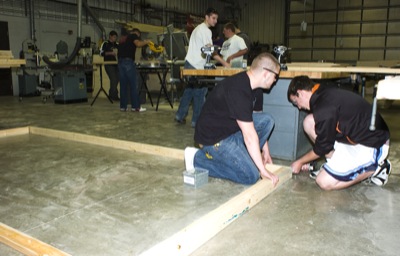 FORT RECOVERY - Hundreds plan to get down and dirty next month to raise money for the Red Cross.
The first-ever Mad Run 5K will begin at 9 a.m. May 19 at the scenic Ambassador Park in Fort Recovery. Organizer Deb Hemmelgarn, executive director of the local Red Cross chapter, said the course will be unique, fun and full of challenges.
"There's a couple mud pits, a belly crawl under barbed wire, wading through a dumpster and some other really interesting obstacles," she said with a sly laugh.
The all-day Mud Run will test the strength and endurance of participants to overcome man-made obstacles while running on dirt trails through mud, woods and swampy areas. No swimming is required and obstacles can be avoided if they appear too difficult or dangerous, Hemmelgarn said.
Similar events, such as the Warrior Dash, are held each year in Ohio and across the country.
"Events such as this ... are becoming quite popular throughout the United States as they provide an additional physical challenge to the traditional 5K race," explained committee member Greg Homan.
Finishers will receive an official Mad Run T-shirt, a medal and a free beer token to be used at the park that day. Those who pre-register and complete the course also will receive Mad Run buff headgear - the type worn by competitors on the TV show "Survivor."
Another committee member, Craig Homan, said he's participated in other challenges like the Mad Run but they've always been several hours away. The success of local 5K run/walks spawned the grueling event, he said.
"With the large number of runners who attend 5K runs in the area, we decided to step it up a notch with the Mad Run," he said.
More than 465 people have registered so far and organizers estimate they'll have at least 500 by race day. Approximately every 30 minutes a wave of 50 or so participants will depart from the starting line.
Spectators are encouraged to watch as competitors as young as 14 navigate the 3.1-mile route along state Route 119. Food and beverages will be available on site with sales benefiting the park. A DJ will play music throughout the day. Showers are located in the park and non-electric campsites can be rented for $25 per site starting at noon Friday.
Organizers began planning the competition two years ago and hope to make it an annual affair. They believe the Mad Run will bring many visitors to the county in "an effort to raise funds for a worthy organization - the Red Cross," Greg Homan said.
The Red Cross shelters, feeds and provides emotional support to victims of disaster, supplies nearly half of the nation's blood, teaches lifesaving skills, provides international humanitarian aid and supports military members and their families.
The organization operates blood drives in local communities and will host one at Ambassador Park the day of the event.
The Mad Run has brought together numerous people and organizations, Hemmelgarn explained. Civics class students at Coldwater, Fort Recovery FFA members and videographers from Celina schools are creating some of the obstacles and performing other tasks, she said.
The Celina Rotary Club plans to gather and clean all shoes discarded after the run and donate them to the Rev. Benedict Magabe of the St. Henry Catholic cluster for the needy people of his hometown, Tanzania, Africa.
Hemmelgarn said she's thankful for the area residents who've stepped up to the plate in so many ways.
"It's taken a ton of work, people and resources to pull this off," she said. "But I think people will really love it."

Mad Run 5K:
When: Starting at 9 a.m. Saturday, May 19
Where: Ambassador Park, Fort Recovery
Who: Anyone 14 and over.
Cost: Registration fees $60; participants in the off-road obstacle course can sign up at www.themadrun.com or on the day of the event.
Goal: To raise money for the American Red Cross
Needed: Volunteers are being sought to set up the course and assist the day of the event. Contact Deb Hemmelgarn at debh@mercercountyredcross.org or call 419-586-2201.