Tuesday, April 24th, 2012
Sneddon drives home winning run in sixth
By Ryan Hines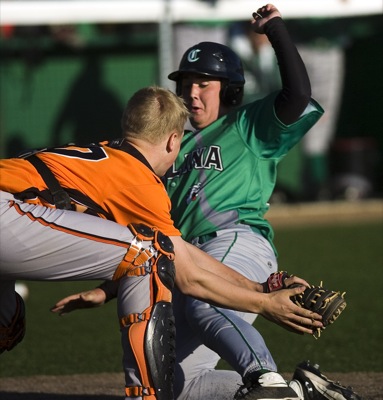 CELINA - With just six games remaining in the regular season, Celina's baseball team was in need of a signature win to build some momentum as the postseason rapidly approaches.
The Bulldogs got the signature win they were looking for on Monday afternoon at Montgomery Field as Celina defeated Minster 3-2.
Celina's nine-hole hitter Andy Sneddon, who had struck out during his previous two at-bats, worked the count full before lining a single down the leftfield line to drive in the game-winning run with two outs in the sixth inning.
"When you win a close game against a good program like Minster, it can't help but give you some confidence," said Celina's head coach Drew Braun. "Now we have to build on that confidence over the stretch run and get ready for the tournament."
Minster (16-3) was up 2-0 after scoring a pair of runs in the third inning, but Celina (10-9) cut the deficit to one run in the bottom of the third inning and tied the score on Kalib Kuhn's RBI single in the fourth frame.
With the score tied at 2-2 going into the sixth inning, Minster's pitcher Austin Knapke got two quick outs before Kuhn was hit by a pitch to ignite Celina's game-winning rally. Kuhn advanced into scoring position at second base after Riley Luebke's single to centerfield. On the eighth pitch of Sneddon's at-bat, the sophomore third baseman ripped a single to leftfield and Minster's relay throw to the plate was not in time as Kuhn slid around the tag.
Cody Vogel earned the win on the mound for Celina after retiring 10 of the final 11 Minster batters. Vogel allowed two unearned runs on three hits with eight strikeouts.
"He doesn't throw the same pitch in the same spot twice from the same arm angle and that makes it tough on hitters," said Minster's head coach Mike Wiss. "He was in and out and up and down all game long. He's their ace and he threw very well."
The Bulldogs' Derek Waterman was the lone player in the game with multiple hits - single and double.
Celina is back in action again today on the road at Van Wert while Minster visits Veterans Field to battle Coldwater.