Tuesday, May 1st, 2012
Skilled workers in hot demand
Tri Star restarts adult welding class
By William Kincaid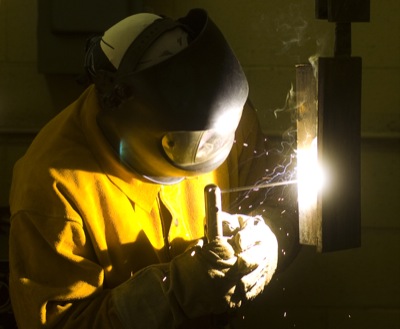 Ohio manufacturers are in desperate need of skilled workers.
Tri Star Career Compact has responded to the call by bringing back an adult welding class after a nearly 20-year hiatus.
"The whole region is screaming for help, and (they) can't get it," welding instructor Todd Smith said. "We can't train people fast enough to step into the openings created by retirement."
Tim Buschur, director of the Celina-based career center, estimates 92,000 skilled-trade jobs need filled in Ohio. Cooper Tire & Rubber Company of Findlay had to hire retirees due to a lack of welders, he said.
"There are many, many, many (companies) that need welding," Mercer County Community Development Director Jared Ebbing said.
The adult welding course at Tri Star's Dennings Building in St. Marys began in April with five students. Classes are held in three-hour sessions, with students needing 90 hours to pass the course. Smith said he may add a six-hour class option on Saturdays.
"It's actually going really well," welding student Josh Coldiron said.
The 36-year-old maintenance worker at St. Marys Foundry had little welding experience before taking the class. He said the Foundry wants some of its employees to learn the trade.
"They're always looking for welders out there, and these guys (instructors) know what they're doing," he said.
Smith has worked in the welding industry for 39 years, 26 as a teacher.
The course costs $800; some businesses pay the fee for employees, Buschur said.
The class is being offered through the West Central Ohio Workforce Development Initiative, a collaboration involving Tri Star, Upper Valley Career Center, Rhodes State College, Apollo Career Center, Wright State University and other entities working to help manufacturers find skilled labors. The recent push has been toward training programs in welding and CNC machining, which often involves running a lathe or mill.
"It is important for us to support the workforce needs of our local manufacturing companies," Angela Hamberg, New Bremen economic development director and initiative organizer, said. "We have inquired what their needs are and are doing what we can to help fill their needs. It is a process that takes time and many steps are involved."
No entrance examination or previous welding experience is required for the Tri Star program. Buschur said there's no red tape or bureaucratic hassle - those interested simply sign-up and begin learning.
Excellent hand and eye coordination and the ability to concentrate on detailed work for long periods of time are key traits for becoming a welder, Smith said. A good understanding of geometry and trigonometry is essential too, he added.
The course is considered beginner level; higher levels could be added in the future if needed, Smith said. The course helps students get in the field and work toward certification.
The class hopefully will satisfy a short-term need for local, skilled tradesmen and women, Buschur said, adding welding jobs in the area pay $20 to $30 an hour.
Buschur said traditional four-year colleges and universities are not the answer for everyone.
"We need to inform adults and youth of the opportunities in our communities," Hamberg said. "There are great long-term career opportunities available in Auglaize and Mercer counties."
Hamberg said the West Central Ohio Workforce Development Initiative is looking to schedule another adult welding training course.
"The date has not yet been set but likely will be mid to late summer at the earliest," she said.
Those interested can contact Hamberg at 419-629-2447 or at angela.hamberg@newbremen.com.

Open house:
When: 6-8 p.m. Monday
Where: Tri Star Career Compact Dennings Building, 809 McKinley Road, St. Marys
Focus: Attendees can learn about the most in-demand manufacturing jobs in the region and training opportunities. Tours of the Tri Star facility will be given and a panel of business leaders also will host and discuss "Manufacturing Awareness: Regional Opportunities for Today's Generation."
Sponsor: West Central Ohio Workforce Development Initiative