Thursday, May 17th, 2012
Neighbors oppose lake restaurant
Legionnaires to vote on leasing parking lot
By Daily Standard Staff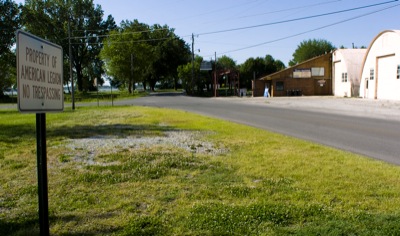 By MARGIE WUEBKER
and CHRISTINE HENDERSON
newsdept@dailystandard.com

CELINA - Harbor Point residents look at the former Ohio Marine property and fear that proposals to locate a restaurant and bar will drastically change the quiet neighborhood.
"We're definitely against this," Frank Crabtree said as his wife Judy nodded in agreement. "This is a quiet neighborhood with a lot of kids. We don't need to expose them to what takes place at a bar."
Christopher Wendel, Gary and Susan Kuess and Daniel and Angela Flaute have purchased the marina and plan to open it as a convenience store, barbecue restaurant and boater gas station. They are seeking liquor permits and more parking for the facility. Some of the owners formerly operated bars downtown.
The owners want to lease a lot from the nearby American Legion for parking. A petition with about 80 signatures opposing the lease has been submitted to Legion officials.
"This is a great place to raise kids," Judy Crabtree said, looking up and down Harbor Point Drive. "That is bound to change with a party barn in our midst."
The county's 4-H Camp, adjacent to the marina's back door, is used by schools, churches and the Mercer-Auglaize County Family YMCA in addition to 4-H youth.
Neighbor George White said residents are upset and are armed with copies of legislation on allowable decibels of noise.
"This is a quiet neighborhood," he said. "We can hear music coming from the Moose and even the high school football band because sound travels when conditions are right ... Can you imagine the sound a rock 'n roll band would generate inside a building or outside on a deck? The owners maintain they will bring in a guitar or a piano player but statements made now and what happens later are not one and the same."
White and his mother Louise, who lives next door, also are concerned about having a parking lot close to their homes.
"If the Legion agrees to lease land for the parking lot, it would be right up close to mom's house," he said. "Who wants a parking lot outside their building, especially when the people who own the vehicles have been drinking?"
Legion members will vote at 7 p.m. Monday on leasing the gravel lot across the street from the marina at the corner of Shore Street and Harbor Point Drive.
Members are to bring their membership identification, Legion trustee John Taylor said.
Even if the club does not rent parking space, plans will still move forward, Gary Kuess said this morning. He did not anticipate any problems in obtaining liquor licenses for the convenience store carry-out or the restaurant. Parking is not a requirement for the licenses, he said.
The owners prefer the Legion land for parking, which they estimate could hold 80 cars, but said a second option would be demolishing two of three Quonset huts on the marina property, allowing for a 100-by-100-foot parking lot, Wendel said. The Quonset closest to the lake would become the restaurant, he said.
A lease amount for the parking lot has not been discussed. The owners have made an in-kind offer to help the Legion build a gazebo and clean up its Grand Lake shoreline land, Taylor said. Details have not been worked out, but the gazebo would be for Legion use, not the marina's, he said.
Besides the land adjacent to the Legion at 2510 state Route 703, the Legion owns undeveloped land southeast of the marina and south of Shore Street. That land is known as Harbor Point State Park with the Legion owning parcels on both sides of the channel and the state owning the center section.
Due to lack of funds, the state has been asking the Legion for years to take over the area and maintain it, Taylor said. Legion members have been considering building a large gazebo there to rent for outdoor weddings.
"There are a couple of residents who are opposed to a restaurant for various reasons," Wendel said. "We fully understand their concerns and we will solve these potential roadblocks. The reality is this project will be great for Mercer County and the Grand Lake area. We will be creating nearly 50 new, full-time jobs, increase the tax revenue base significantly and help revitalize business and tourism on Grand Lake."