Thursday, May 17th, 2012
Two big innings propel Panthers
Division IV District Softball at Elida
By Mark Ruschau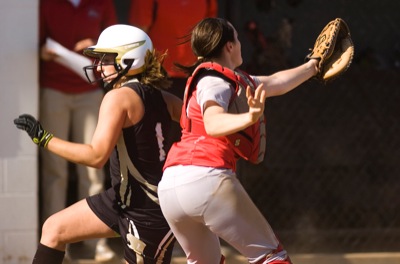 ELIDA - Parkway's softball team used two big offensive innings on Wednesday to defeat Columbus Grove 7-3 in a Division IV district semifinal matchup at Dorothy Edwards Field.
The Panthers (22-6) advance to Friday's district final at Elida to face the Crestview Knights (23-4) at 5 p.m.
Trailing 1-0, the Panthers scored three times in the bottom of the first inning for an early 3-1 advantage. With two outs, Cierra Fent singled and went to second on a Lindsay Walls's infield hit. Fent and Walls scored on a two-run single by Kylie Snyder, who later scored on a safety squeeze by Peyton Heitkamp.
Columbus Grove tied the game with single runs in the second and third innings after RBI doubles by Bobbi Heckel and Katelyn Scott.
Parkway regained the lead for good in the top of the fourth as Kayla Walls led off with a triple and scored on a bounce out by Olivia Smith.
"Kayla has really turned it on here the last couple of weeks," said Parkway's coach Mark Esselstein. "She has been one one of our best hitters. We have thought about moving her up in the batting order, but it is nice to have her in the nine spot to roll the lineup over."
Parkway's defense made the one-run lead stand up by keeping the Bulldogs off the board for the rest of the game, although there were a few anxious moments.
In the fifth inning, Columbus Grove got its first two runners on base, but Fent recorded a pair of strikeouts and got out of the jam on a lineout.
In the top of the sixth, Fent was in trouble again as Haley Grigsby went all the way to third when her lead-off single was misplayed by the Panthers' rightfielder. After Deanna Kleman bounced to third for the first out, the Panthers' defense redeemed itself when Cece Utendorf hit a groundball to shortstop Taylor Walls, who fired to first. Utendorf was called safe but Grigsby broke for home and was gunned down at the plate by Snyder for the second out. Katie Roose bounced out to end the scoring threat.
Fent walked Schroeder to start the seventh inning and Esselstein called on junior Morgan Steinbrunner in relief of Fent. Steinbrunner recorded two strikeouts and induced a bounce out to end the game.
"We missed some plays early in the game because we were a little tentative," said Esselstein. "But we were able to make some plays however, get a lead runner out on a bunt and we gunned down a runner rounding second. We did some good, but we also did some bonehead plays. The kids know that we are going to have to play better in all three phases of the game to beat Crestview.
"We were able to get some runners on and get them into scoring position, we just were not able to get the big hit," said Grove's coach Brian Schroeder. "Hats off to them, they had great pitching and the defense behind them. They are a good team, they are not going to give you anything and we were not able to take advantage."