Friday, May 18th, 2012
Schmackers throws gem for Cavaliers
Division III District Baseball Semifinals at UNOH
By Gary R. Rasberry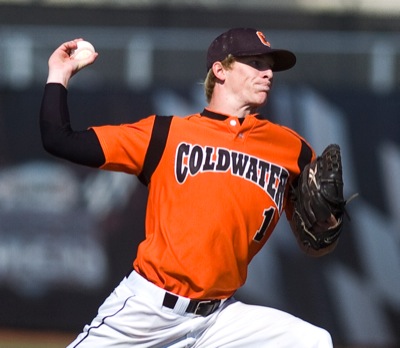 LIMA - Eric Schmackers was as efficient as a pitcher could be.
The Coldwater senior faced just two batters over the mimimum and threw fewer than 70 pitches to get the Cavaliers to the Division III District final with a 6-1 win over Patrick Henry on Thursday afternoon at Racers Field on the campus of the University of Northwestern Ohio.
The Cavaliers (20-8) will take on Lima Central Catholic on Saturday at 2 p.m. for a berth to the Elida Regional. LCC dispatched Ottawa-Glandorf 8-1 in Thursday's other semifinal.
Schmackers (6-4) needed just 67 pitches to pick up the win. Forty-eight of said pitches went for strikes. Schmackers did not walk a batter, scattered four hits and struck out five as his defense took care of business as Schmackers forced the Patriots (17-10) into eight groundouts, including double plays to end the third and fourth innings.
"I tried to throw my strikes as best as possible," said Schmackers. "I had some great defense behind me. They made so many double plays."
"That's Eric Schmackers. You've seen it before and we've seen it before," said Cavaliers' coach Brian Harlamert. "He had it going. The key was he was confident with all three of his pitches. He went and put it in the zone. We knew their hitters were all kind of middle (of the zone) guys who can put the ball into play. Eric was very aggressive and very efficient."
The only time Patrick Henry gave Schmackers grief was in the first, when back-to-back singles from Austin Christman and Kolby Seeman brought home the first run of the game.
The Cavaliers wasted no time in getting the lead off of Patriots' ace and University of Toledo-bound Kevin Kline. In the second, Alex Stammen walked and went to second on a passed ball. After Matt Kramer reached on a one-out single, Jordan Klosterman drove the ball to left, bringing both runners in to make it 2-1.
The big inning was in the third. Kline got the first two outs, but then plunked Klosterman. Mitch Schoenherr then reached on an error, followed by Randal Muhlenkamp reaching on another error, allowing Klosterman to score. Drew Otten brought Schoenherr and Muhlenkamp around with a single to right to make it 51. The Cavaliers picked up one more run in the fifth as Stammen singled in pinch-runner Brody Hoying.
"He's definitely a good pitcher, and his velocity is high," said Harlamert of Kline. "But we said all week (that) when we saw him last week, he wants to throw his high fastball. We told our guys 'no, no, no.' (Kline's pitches) come down, it loses velocity. .. It's a matter of being disciplined and following the program."
That all Schmackers needed, as he retired the last 10 batters he faced to close things out.
Patriots' coach Shawn Sunderman was impressed.
"He was throwing strikes, and we were playing our typical style (of) aggressive (play)," said Sunderman. "We just couldn't square anything up and he was in the zone all night. I don't know how many times he went to a three-ball count. It wasn't too many (once)"
Now the Cavaliers will face the Thunderbirds for the second time this season. The first meeting was won by Coldwater 7-2 in early April.
"I have a lot of respect for (LCC coach) John Schneiders and (assistant coach) Doug Waddle," said Harlamert. "We're going to play good team. We have to worry about what Coldwater has to worry about. That's the key."