Friday, June 29th, 2012
Skilled workers in short supply
By Christine Henderson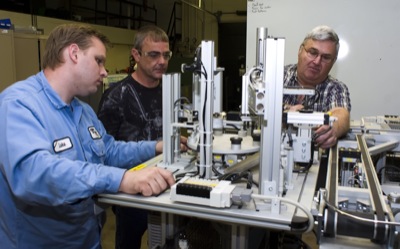 Could leading the state in unemployment send Mercer County's business development into stagnation?
"For all practical purposes, Mercer County is at full employment," said Wes Jetter, chief executive officer of Fort Recovery Industries, one of the county's largest employers. "It is more difficult to find qualified employees, especially in the skilled trades."
The county's May unemployment rate of 4.2 percent was the lowest statewide for the seventh consecutive month, according to the Ohio Department of Jobs and Family Services.
Lewis Horner of the Ohio Bureau of Labor Market Information said Mercer County's unemployment has consistently been below the state's unemployment rate the last 12 years. The county's lowest rate was 3.3 percent in October 2000 and again in May 2006.
Statewide, the unemployment rate averaged 6.9 percent in May the last 12 years; the lowest rate was 3.7 percent in October 2000.
Low unemployment could conceivably be a challenge to Mercer County businesses, said Scott Koorndyk, executive vice president of economic development and operations for Dayton Development Coalition, which administers the JobsOhio state grant. The coalition works to create jobs in Mercer, Auglaize and 12 other counties.
For Crown Equipment Corp., the No. 1 employer in Auglaize County and No. 2 employer in Mercer, low unemployment is a problem "to some extent," said Randy Niekamp, vice president of human resources. He said the greater difficulty is finding workers with the right skills. Crown needs machinists and welders.
Mercer County companies have long been dealing with a shortage of people with advanced manufacturing skills, Mercer County Community Development Director Jared Ebbing said. Manufacturing workers are sought in robotics, troubleshooting and computer programing as well as college graduates in engineering, business management and information systems.
Jetter said the lack of skilled tradesmen may impede future expansion of his company. Fort Recovery Industries' recent opening of a satellite casting plant in Portland, Ind., was related to this workforce limitation, he said.
Ebbing said fewer and fewerunskilled jobs exist in the area.
"I would not say low unemployment does not have an effect, but the greater effect is a need for better alignment with the skilled positions available," he said.
However, not all companies are struggling to find employees.
"We are not experiencing any problems in getting employees for our operations," said Ken Obringer, director of marketing and communications for Mercer Health, the parent company of Mercer County Community Hospital.
Many job applicants want to come back to this area, and the hospital's benefit package attracts them, he said.
Jack Staugler, director of human Resources at Cooper Farms, said applications have slowed.
"We realize the upside of the tremendous work ethic is low unemployment," he said.
Cooper Farms is "pretty well fully staffed," Staugler said, adding the company prefers to hire within a 20-25 mile radius.
Overall, companies are looking at Mercer County as a place to build manufacturing facilities, Koorndyk said.
"Mercer County is very much in the mix. We are working on projects," he said. "There is a clear growth in manufacturing."
The Dayton Development Coalition anticipates a 6 percent county growth over the next five years in manufacturing, which now employs about a third of the workforce.
"Probably the biggest growth will be in transportation and warehousing," Koorndyk added. "It is now only 1,000 jobs, but a growth of 44 percent in five years is projected due to your location."
Mercer County is "close enough" to the Interstate 75-70 corridor to attract those businesses, he said.

Mercer County workforce by the numbers:
40,814 population
50.4% male
54.7% ages 30-54
31% manufacturing
13.2% health care
10.4% retail trade
9.2% education
6.2% food service
2% agriculture
45% earn $1,251 to $3,333 monthly

- Information from the 2010 Ohio Bureau of Labor Market Information, the most recent statistics available. The above statistics do not include all job sectors; some with low percentages were omitted.