Friday, June 29th, 2012
Mariners taste victory
Grand Lake puts an end to nine-game losing streak
By Ryan Hines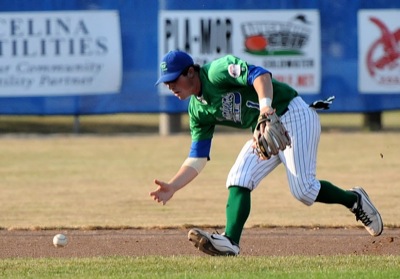 CELINA - The triple-digit temperature on Thursday was enough to halt the Grand Lake Mariners' cold spell.
Grand Lake ended a nine-game losing streak as the Mariners' offense got hot in a 10-6 victory over the Lake Erie Monarchs in Great Lakes Summer Collegiate League action at Jim Hoess Field.
"It's a relief to finally put an end to this losing streak," said Grand Lake's manager Mike Goldschmidt. "It's no secret that it has been tough going here of late and it's nice to be able to get that losing taste out of our mouths. I don't think there is a person on our team that feels we are the worst team in the league. We just have to dig out of this hole and prove that we are a good team."
The Mariners (6-12) had managed just four hits in the last two games combined but erupted for 15 hits against a trio of Lake Erie's pitchers.
"We have been pressing the last several games and I think that the guys relaxed at the plate a little bit more today. We came out from the get-go and barreled-up quite a few pitches today," said Goldschmidt. "We had quality at-bats and that is what we're looking for. We got contributions all the way through our order."
Grand Lake fell behind early 2-0 on a Trent Miller two-run homer in the first inning but the Mariners took the lead for good with a four-run second inning. Andrew Lack, Jordan Makovicka and Kyle Haen each contributed RBI singles while Makovicka stole home to account for the fourth Mariners' run of the inning.
RBI singles by Lack and Jacob Reese in the third and fourth innings propelled the Mariners to a 6-2 advantage.
Lake Erie (9-7) closed its deficit to 6-4 after scoring a pair of runs in the top of the fifth inning, but Lack's two-run single in the bottom of the fifth put Grand Lake on top 8-4.
"We have been struggling on offense quite a bit lately and it felt good to go out there and hit the ball like we did today," said Lack, who finished the game 3-for-4 with four RBI. "The nice thing is that it wasn't just one or two guys...we hit all the way through the lineup tonight."
Reese had an RBI single and an RBI fielder's choice to account for Grand Lake's final two runs. Haen joined Lack with a three-hit game for the Mariners while Reese and Andrew Wasmund contributed two hits apiece.
Travis Reboulet pitched the first four innings for the Mariners and gave up four runs on four hits while Steve Hagen came on in relief and pitched 4 1/3 innings and surrendered just two unearned runs on five hits. Scott Houdek threw one pitch in the ninth inning and it resulted in a double play to end the game.
Grand Lake is back in action tonight with a road trip to face GLSCL-leading Cincinnati (10-4).