Tuesday, July 3rd, 2012
Thousands of poultry deaths reported
By Nancy Allen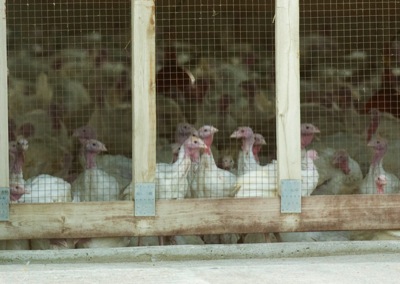 Excessive heat is being blamed for hundreds of thousands of deaths of turkeys and chickens, many of them in Mercer County.
"We've had a few losses, but we're trying to get everything situated with our growers," said Cooper Farms General Production Manager Carl Link, who said no hog losses have been reported by Cooper's contract growers.
Cooper Farms Communications Coordinator Cassie Jo Erend said officials are trying to get a handle on the number of birds that have perished. Most of Cooper's contract turkey and chicken growers are in Mercer and Darke counties.
"We don't have a final number yet for sure; we're still talking to growers," she said Monday. "We're doing everything we can do to prevent the losses."
Erend said the birds don't sweat, a natural cooling response, which makes it difficult to keep them cool.
Gus Wintzer of G.A. Wintzer & Son, a rendering plant in Wapakoneta, said his facility couldn't keep up with the hundreds of thousands of dead chickens and turkeys that started coming to the plant on Thursday.
Wintzer said the birds came from many contract, cooperative and private growers from "all over" with the majority from Mercer and Auglaize counties.
"The problem we have is we can't process them fast enough and a lot of them are going to have to go to a landfill," he said. "We've never had this many birds come in this short of time."
Carcasses not degraded are made into poultry feed, he said.
"We were literally overwhelmed, but these are people who buy feed ingredients from us and supply raw materials to us, so our goal was to take care of our customers," Wintzer said. "They needed to dispose of these birds."
Rural Celina farmer Seth Kohnen helped his father, Ron, who raises turkeys, last Thursday.
Seth Kohnen said the birds were doing alright during the day, but became heat stressed later that night and began to perish.
"It was just so hot for so long, 90 some degrees at 10 o'clock at night," Seth Kohnen said. "They can take some heat during the day, but they just need some relief.
Everybody's in the same boat and it's not poor management on anybody's part, but when it's 106 degrees, it's just not normal."
Ohio Poultry Association spokeswoman Hinda Mitchell said poultry farmers have had heat deaths across the state. Growers are doing what they can.
"Their focus is to put extensive measures in place to protect flocks and prevent any further losses," she said. "They're bringing in further generators and fans ... altering feed rations also helps with intense heat."
Mercer County Farm Service Agency Executive Director Chris Gibbs said tens of thousands of chickens and turkeys have perished due to heat. He's also heard scattered reports of hog deaths.
Gibbs said for layer hens, most of the production loss is wrapped up in the eggs. The birds only cost a couple of dollars each.
"With turkeys all the production loss is tied up in the birds; the grower and owner can have $25 to $30 per bird," he said. "So if you lose a house of turkeys, and they hold about 5,000 birds, each of those houses gets pretty expensive."
Anita Green, executive director of the Auglaize County Farm Service Agency, said she's heard reports of "multi-thousands" of death losses of chickens and turkeys and hundreds of confined hogs in her county due to heat.
Milk production in dairy cattle also drops in extreme, extended periods of hot weather.
"When animals are hot, they don't feel good and don't eat and when they don't eat, that's what makes production suffer," Gibbs said. "What's been difficult with this weather event is normally when you have the heat of the day, cattle and other livestock can bear that for four to six hours with the expectation that the evening will be cooler, but as heat has persisted into the night, it leaves our animals no relief."
Dr. Tim Barman, veterinarian for Coopers, said when temperatures near 100 degrees it's difficult to keep animals cool, especially poultry.
Chickens and turkeys have higher body temperatures and faster metabolisms than larger animals, which make the birds produce more body heat.
Fans and water misters are used to cool both layer hens and turkeys. In turkey houses, where several thousand are raised out in the open in a barn, workers walk among the birds to get them moving to release body heat and encourage them to drink, he said. Once turkeys lie down in such extreme heat, their entire system shuts down and they suffer heat stroke and die, he said.
"We work constantly to have more cooling, misting, ventilation and adequate water supply," Barman said. "We sometimes spray from the outside through screens on turkey houses to help cool birds and get them moving too."
Green said the Disaster Title of the current Farm Bill, which provided for the first time historically "permanent" disaster legislation for crops and livestock, expired in October, making emergency USDA loans the only disaster relief available to farmers for animal losses.
Gibbs and Green urged farmers to keep records of their crop and animal losses in case Congress later passes ad hoc disaster assistance.
"Producers should keep really good records of crop losses and notify FSA or federal crop insurance agencies," Green said. "For livestock losses they also need to keep good verifiable and reliable records like vet bills, rendering bills, etc."