Saturday, September 29th, 2012
Drugged at birth
Grand Lake area sees increase in babies born addicted
By Shelley Grieshop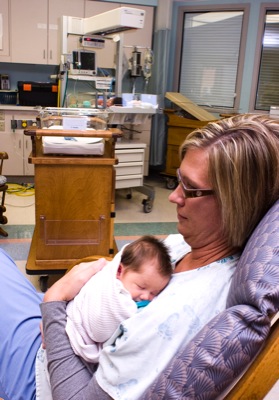 They thrash about, cry out and suffer diarrhea, tremors, cramping and severe diaper rash.
Tiny newborns withdrawing from hard drugs like heroin and cocaine are often traumatized with these symptoms. It's a heartbreaking sight that's becoming more common in the Grand Lake area.
"We're seeing more and more babies testing positive for drugs," Connie Paulus, director of maternal services at Mercer County Community Hospital in Coldwater, said. "We recently had a mother who was involved in a local heroin ring."
Paulus said 10 years ago her staff saw only one or two drug-addicted newborns a year.
"Now we easily do that each month," she said. "It's sad but true."
According to the Centers for Disease Control and Prevention, almost 14,000 babies were born in the U.S. in 2010 suffering from some type of drug withdrawal symptom - four times more than in 2003.
Drug-addicted babies often are premature, have a high risk of birth defects and may be riddled with lifelong developmental problems, Paulus said. The staff's concern for the newborn doesn't stop when mother and baby leave the hospital.
"We don't know if the child is being sent home to an environment where parents are incapacitated, not even taking care of themselves. We worry about that poor baby," she said.
Babies born dependent on opiates like heroin - a popular illicit drug locally - are sometimes transferred to bigger hospitals for extended treatment. In severe cases, morphine or other drugs are administered to the baby to curb pain.
Pregnant women hooked on drugs often jump from one hospital to another in hopes of hiding their drug use history, Paulus said. Some quit taking illegal drugs prior to delivery so they test negative when admitted.
"We've had moms try to get an early release so the baby is dismissed before withdrawal symptoms develop," she said.
If a pregnant or new mother is suspected of being under the influence of drugs or the baby exhibits signs of withdrawal, a drug screen is ordered, Paulus said.
"We don't do this to get someone in trouble with the law. We have to know how to treat them properly," she explained.
If mother or baby tests positive for illegal drugs, authorities must be contacted. Mercer County Prosecutor Andy Hinders said medical professionals are "mandated reporters" and have an obligation by law to report their findings.
"If mom tests positive for opiates ... they have to test the baby," he said.
The mother can be charged with drug possession (in her bloodstream) and child endangerment. The baby likely will be taken away at least temporarily and placed in foster care or with a responsible relative.
Hinders said he's currently handling four cases involving babies born addicted to heroin. The tragic consequences don't seem to deter the mothers, he said.
"Repeats are common," he added.
Matt Ronan, clinical director at Gateway Outreach Center in Celina, agreed the success rate isn't good. His agency helps mothers who must do court-ordered counseling to regain custody of their children.
"They (mothers) want their child back so they may get clean for a period of time," he said. "It gets the system off their back for a while."
Ronan tells the mothers they need to kick the drug habit for themselves, not their children.
"It sounds selfish, but if they do it for the child, it won't sustain them," he said.
Family support is critical but can be a double-edged sword, Ronan said. Some women use assistance with childcare as an opportunity to get high again; others truly want to change their life.
"There are women who want to be good moms, and they don't want someone else raising their child," Ronan said.
Mercer County Sheriff Jeff Grey said the area's drug abuse problem has a bigger impact on children than most people realize.
"We are seeing more and more situations where children are victims of their parents' drug habits, not only being addicted when they are born, but being exposed to it as parents use or deal drugs right in front of them," he said.