Saturday, September 29th, 2012
Cavs top Redskins for the 17th straight time
By Gary R. Rasberry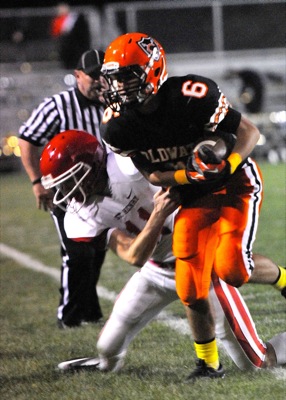 COLDWATER - St. Henry got an up-close look at what other local football teams have experienced so far this season - Coldwater is not your ordinary football team.
The Cavaliers shut down a potent Redskins' offense and found a number of ways to score points as the top-ranked team in Division V improved to 6-0 overall and 4-0 in the Midwest Athletic Conference with a 41-7 win over the Redskins in the Backyard Battle at Cavalier Stadium.
It's the 17th straight win Coldwater has achieved over its rival to the south. The Redskins, ranked in the top 10 of the Division VI poll this week, fall to 4-2 (2-2 MAC).
"Obviously, we've got to give a lot of credit to Coldwater," said St. Henry's coach Jeff Starkey. "They're playing at a different level than anyone else in this league right now."
Coldwater's defense held St. Henry to just nine first downs and 102 yards of offense, most coming late in the game when the Cavaliers were rotating in younger players. Redskins' quarterback Kyle Stahl was sacked several times and intercepted three times by the Cavs' defense.
"We played great on defense," said Coldwater's coach Chip Otten. "Our D-line is really stout. We go 250, 250 and 230, then Vinny (Droesch) and Sweets (Andrew Schwieterman) are light guys, but quick and play hard. Then you have Zach Dickman in the middle (at linebacker). We're playing well and have to keep them going."
The Cavaliers' offense was sharp, even without leading receiver Caleb Siefring, who was on the sidelines early with an ankle injury, and running back Jordan Chapin, who missed his second game after pulling a hamstring against St. John's in Week Four.
Coldwater, though is deep at the skilled spots, Kyle Post stepped up and made six catches for 36 yards, Christian Schramm snagged a touchdown pass late in the second quarter and Mitch Schoenherr broke free for a 57-yard TD run to start the third quarter.
"That's awesome when you know you can count on 15-18 guys on both sides of the ball. Adam Klosterman and Drew (Otten) came in to play for Chape (Chapin) and Grant Muhlenkamp (concussion). Our skilled position guys are really deep," said Otten.
Austin Bruns was efficient in the passing game (17-of-20 for 195 yards and two scores) while hitting eight different receives and he also ran the ball 14 times for 65 yards and two scores.
"Austin is just playing great," said Otten. "When your quarterback can run and throw, and make great decisions, it's hard to stop when you have a lot of the weapons like we have."
The Redskins were able to avoid the shutout in the fourth quarter as Stahl found Jordan Bender for a 13-yard score.
"We made way too many unforced mistakes tonight that put us in the hole early," said Starkey. "Not handling the snaps, not snapping the ball, not catching the football. We had to come in and play an almost perfect game tonight, and we were far from perfect. We have to look in the mirror and get better for next week."
Coldwater heads to Anna next Friday to take on a Rockets' team that has lost three straight games. St. Henry stays on the road for another highway rivalry matchup as it heads east on Ohio 119 to face Marion Local.