Thursday, December 6th, 2012
Unbeaten seasons nothing new for Klostermans
By Gary R. Rasberry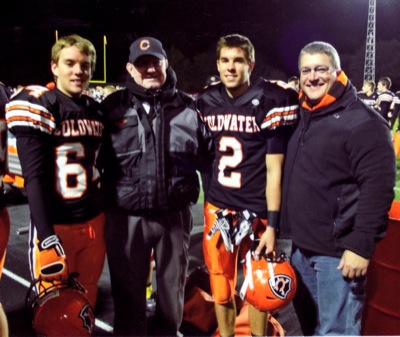 Especially around this area, there has always been a good family tradition when it comes to athletics.
As the final seconds ticked away in Saturday's Division V state championship football game, the Tom Klosterman family of Coldwater experienced an unique continuation of tradition.
With the Cavaliers' 10-9 win over Kirtland, the Klostermans have now experienced three generations of football players who have been a part of undefeated teams, with 29 years separating each feat.
The tradition started in 1954 with Tom (TK) Klosterman. Under coach Paul Ponzuric, Coldwater went 9-0 and allowed just 37 points all season with five shutouts, including beating Celina 45-0 in the eighth week of the season. With no playoffs in place back in that day, the season ended a week later with a 60-7 win over Centerville to complete the unbeaten season.
"I was in T-formation as a running back," said Tom, who was a junior that season. "Living in the country, we didn't know much about (going undefeated). It was fun."
The tradition continued in 1983 with TK's son, Mark. The Cavs of 1983 coached by Bob Sielski tore through the four-game non-conference schedule with a total combined score of 199 to 21. In Midwest Athletic Conference play, Coldwater allowed just 17 points over the first five league games and then beat St. John's 42-22 in Week 10 to go undefeated.
Unlike 1954, the 1983 Cavaliers were battling for a playoff spot, but with just the top two teams in each region advancing, the Cavaliers were left out by taking third in the region.
"We lost by a quarter of a point (in the computer points)," said Mark, nicknamed Taco, who was first-team All-MAC at running back and led the conference with 14 touchdowns that season. "It was one of those things where nowadays there's a lot more emphasis on making the playoffs because eight teams make it, whereas back then only two teams made it. We were lucky if we got there."
Mark didn't realize that his dad had been part of an unbeaten team until looking through old yearbooks.
"I found out that he was a running back, and I was a running back," said Mark. "It was kind of cool that he was on an undefeated team and so was I."
Fast-forward to this season, where Mark's sons Adam, whose middle name is Thomas, and brother Austin - who is part of a set of triplets along with sister Erica - were part of the Cavaliers' 15-0 season. Adam, a junior receiver/defensive back, and Austin, a junior lineman, played some time for the Cavaliers this season. Adam recorded 19 tackles and an interception with Austin recording 10 tackles.
Both Adam and Austin knew about the accomplishments their grandfather and father had achieved, but getting a chance to experience it for themselves is something else.
"They let us know once we were 10-0," said Adam. "They let us know, to see if we can do it."
Seeing their sons and grandsons be a part of an undefeated state championship team is something TK and Taco will never forget.
"It's exciting," said TK, who drives the bus for Coldwater Schools. It's unbelievable, just unbelievable and exciting."
"It was like closure. It just felt good," said Taco. "I was happy for the boys, really all of them. (Especially) the seniors for finally bringing home the big gold trophy and not the silver. Three silver trophies (for the three straight runner-up finishes coming into this season) is nothing to sneeze at."
Adam is glad that he and Austin were able to continue the family tradition.
"It's a great experience," said Adam. "The whole family loves football. It's what we've always done. It's great to keep the tradition going. It's an awesome feeling, I guess."