Tuesday, December 11th, 2012
Holocaust survivor: forgive but never forget
William Meyer talks of faith, bravery at St. Henry High School
By Eric Adams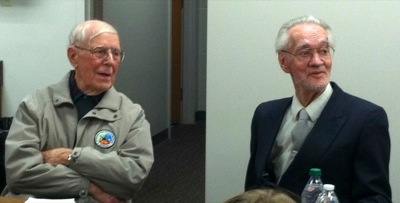 ST. HENRY - William Meyer witnessed unspeakable atrocities at the age many modern American children receive their first cellular phones.
He was 11 when Gestapo officers arrested him outside the clockmaker shop of his neighbor, Corrie ten Boom, a Jewish sympathizer.
Meyer, 81, now of Geneva, Ind., spoke to a packed house at St. Henry High School on Monday evening about his experience as a prisoner at a Nazi concentration camp.
Ten Boom was a close companion of Meyer's throughout his childhood; she frequently read him Bible stories and fed him cookies.
One of her biggest lessons was that goodness will always overcome evil, and light will overcome darkness. To ten Boom, Meyer says, these words were far more than just platitudes. She worked to see them come true by not only providing supplies to Jews in hiding but also housing Jews herself.
Meyer first faced adversity from his own father for aiding Jews. In order to keep his job, his father, a police officer, had been forced to become a Nazi. This became the case with many professions, Meyer said.
"My dad said no, but me being a little boy, I said 'yes.' Nobody loved the Jews very much. I thought 'what could (the Nazis) do to a little boy?' "
He soon learned.
At ten Boom's instruction, Meyer had been transporting food ration stamps and passports, riding up to 50 km on a bike with no tires, to Jews in hiding throughout Holland.
"I was not very brave, I don't think," Meyer said of the trips. "I did it because I had to, because I could."
As fear increased for the safety of the Jews, ten Boom one day instructed Meyer to carry a little boy on his bicycle to a convent several miles away.
When he returned, Gestapo officers were waiting at the clock shop. Meyer initially denied taking packages for ten Boom, but the officers beat the truth out of him.
Days later they entered his home and killed his entire family except one sibling, with whom he would later reunite. Meyer was hiding beneath a tablecloth when he witnessed his mother fall directly beside him. To this day he laments the high cost of his assistance to ten Boom.
"Am I a traitor?" Meyer asked the crowd. "My family might still be alive."
Still, he was only doing what he felt was right.
"There is no public morality," Meyer said. "You're fully responsible for your own actions."
He was referring to the collectivist mindset of the Nazis, a majority of whom were devout Christians.
"They felt like they were doing God's will," he said.
Meyer was taken to a concentration camp by train on what he called "cattle cars." The trains carried roughly 40 cars with about 160 prisoners crammed into each.
The first camp where he arrived, called Westerbork, was not termed a death camp but a camp for political prisoners. Still, 500 to 1,000 people died there every day, many of starvation, Meyer said. Their daily ration was one slice of bread and one cup of watery soup.
"The starvation was the worst," he said. "A hunger you cannot understand."
He miraculously survived about a year under these conditions before being transported to Vught, a death camp with crematoriums that constantly burned bodies.
"The smell was so bad you could cut it," Meyer said.
A series of miracles saved him.
Concentration camp prisoners routinely were lined up for inspections and any who had soiled themselves would be executed on the spot. Meyer was suffering from diarrhea one day and knew he would most likely be killed if he did not do something.
When no one could see him, he immersed himself in a trench of dead bodies that surrounded the camp. He lay there, praying for his chance to leave before Nazis poured lime on the bodies to eat away the flesh - something done twice a day, he said.
No lime was poured that day. Meyer called that miracle No. 1.
He eventually escaped through a rabbit-sized hole in the camp's electric fence, which was said to be lethal. Meyer said he felt nothing.
"Miracle No. 2," he said.
A farmer not far from the camp briefly took in Meyer; he was 14 and weighed 45 pounds. The farmer directed Meyer back home where he ultimately was told the whereabouts of his eldest sister, who was then working as a prostitute in Rotterdam, Holland.
Meyer stayed with her until Canadian forces liberated Holland in spring of 1945.
It was around this time that St. Henry resident Harold Kleinhenz, 91, had his first encounter with a concentration camp while serving in the 16th Artillery Observation Battalion of the U.S. Army. Kleinhenz and Meyer met for the first time before the public program Monday.
Kleinhenz's battalion, which arrived at Buchenwald one day after U.S. forces liberated the camp, found several half-naked bodies scattered throughout the courtyard. He said most weighed just 75 pounds, and he will never forget the stench of death that permeated the air.
Meyer cautioned the audience to heed his message, because history can repeat itself even in the free nation of America. He encouraged attendees to help those in need whenever possible.
"Everything we do (for ourselves) dies with us, but things we do for a neighbor or a stranger are immortal," he said.