Tuesday, December 11th, 2012
Thrift stores seeing more customers
Patrons switch to buying essential items
By Christine Henderson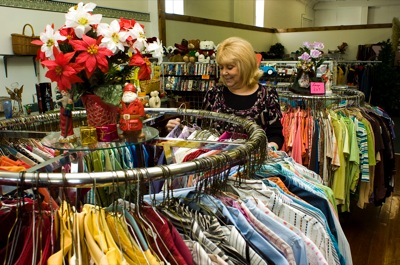 While the bad economy has been good for sales at stores featuring used inventory, the greater change has been in what shoppers are buying.
"We have picked up more customers, but people are only buying what they need," said Anne Tesno, manager of Things From The Heart Thrift Store in Celina, which has been selling used clothes and household goods for 20 years.
Customers used to buy a special outfit, saying it was worth it for one wearing.
"Now they only buy what they have to have, even if it is only a couple of bucks," Tesno said.
Kathy Bayless, executive director of Agape Ministries, which operates a thrift store in St. Marys, agreed.
"More people are thrift-minded," she said.
Popular items this time of year are Christmas decorations such as lights and trees, Bayless said.
Jen Garret, owner of Simply Good Things in St. Marys, said she has noticed changes in shopping habits since opening her used furniture/household store nine years ago.
"The 'must haves' change if you don't have a lot of money," she said.
Purchases have switched to essential furniture such as beds, dressers and night stands instead of knickknacks. Even to sell the "must haves," the prices must be reasonable, Garret said.
Anita Germann, who began operating Anita's Morning Glory Boutique in St. Marys six months ago, said sales are increasing. She sells used clothes and new accessories.
"With the economy being tough, more people are looking in this direction to keep themselves fashionable at an affordable cost," she said.
The two-year-old Goodwill Store in Celina also has reported growth in retail revenue and "strong sales," retail district manager Gene Motycka said.
Leah Taylor of St. Marys said she shops at Morning Glory because she likes vintage clothes and wants to expand her wardrobe while paying reasonable prices.
Junior Stine of St. Marys, a customer at Simply Good Things, looks for pocket knives, cheese plates and novelty items at thrift stores. He buys and then resells his finds as a hobby.
Diane Stromblade, owner of Hidden Treasure in Coldwater, said it's hard to judge if the economy has influenced her business. She has found that the type of inventory, such as name brand clothing and word of mouth impact her sales.
Her busiest times are when the seasons change, she said.
Some stores, such as Things From The Heart, have begun offering consignment instead of just taking clothing as a donation to increase inventory.
Sue Lore, co-owner of Mommy and Me, a used baby products store in Celina, said this Christmas season has been good, but overall, the poor economy has hurt business.
"People just aren't spending," she said.