Tuesday, December 11th, 2012
Cardinals turn up defensive pressure to defeat Botkins
By Gary R. Rasberry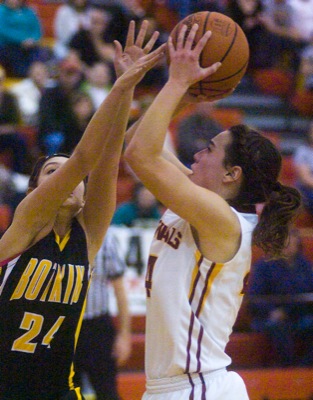 NEW BREMEN - The New Bremen girls' basketball team got out to a strong start and did not let up as the Cardinals defeated Botkins 39-26 on Monday night at Cardinal Gymnasium.
The Trojans (4-2) scored the first basket of the game, but the Cardinals (2-4) quickly took control with a 10-0 run as Meagan Brandt and Kyla Otting each hit three-pointers to highlight the spurt. New Bremen's fullcourt pressure defense forced eight Botkins turnovers in the first quarter.
"We just switched our defenses around every so often," said Cardinals' coach Chris Burden. "Sometimes when you do that, they (Botkins) get out of rhythm. We started out in our diamond press, back into our 2-3 (zone) and mixed in a man-to-man and 1-3-1 in there. ... Switching the defenses was the key."
"I wish I knew," said Botkins' coach Don Mack when asked what New Bremen did to hinder his team. "They had a hand in every passing lane, a hand in every deflection and took us out of everything we wanted to do. We didn't respond. We just sat back and let them get a hand on (the ball), push us around. Whatever they wanted to do, they did it."
The Cardinals kept things rolling in the second quarter by building a 15-point lead at 20-5 with four minutes left to play in the first half. New Bremen did not allow Botkins to get any closer than 10 points in the second half and the Cardinals were up by as much as 16 points in the final two quarters.
"Credit our kids' defensive effort," said Burden. "We have defensive goals we want to achieve. The girls know those goals and we were able to take pride in our defense and get the job done tonight."
Botkins shot just 7-of-38 from the field (18.4 percent) and were outrebounded 38-26.
"That's one of the five things we try to get in a game," said Burden of dominating the rebounds. "If we limit (the opponent) to one shot at the basket, I feel we'll be successful. In return, we were able to run down the floor and score some easy buckets."
Haley Moeller had a dominating night on the boards, pulling down 12 to go along with her game-high 13 points. Otting added nine points.
Logan Pitts was 7-of-10 from the foul line and paced Botkins with 11 points.
New Bremen returns to Midwest Athletic Conference action on Thursday, traveling to Rockford to face Parkway.