Wednesday, December 19th, 2012
Longtime Celina law enforcer retires
By Betty Lawrence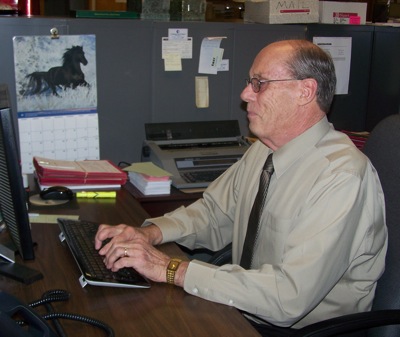 CELINA - Longtime Celina Municipal Court Bailiff LeRoy Felver is retiring for a second time on Dec. 31, closing the door on a nearly 50-year-career with the city.
Felver, 70, a graduate of Willshire High School and the State Highway Patrol Police Academy, began his career as a member of the Celina Police Department auxiliary before joining the force in 1965. He worked his way up the ranks and was named chief of police in the early '80s.
"I was chief when I retired from the police department in 1991," Felver said.
Soon after, he learned of an opening as a court bailiff and has been serving in the role ever since.
Court bailiffs are law enforcement officers who maintain order in the courtroom and swear in witnesses who take the stand. One of their responsibilities also includes delivering court-ordered papers, which can range from notices to appear in court to civil matters pertaining to minor lawsuits and evictions.
"The most difficult part of serving papers is serving them to people who are being evicted from their homes and those who are losing their property because of a court-ordered possession," he said. "It didn't matter whether it was a car or what, that was the worst."
He feels the biggest changes in the court system are the computerization of court records and the number of drug-related charges.
A memorable moment for Felver was when he was named the state's Bailiff of the Year in 2004.
"My wife and I went to Columbus, where I was presented with the award. I didn't know I was going to get it, and what an honor that was," he said.
He said he has thoroughly enjoyed his time with the police department and as bailiff.
"Throughout all these years, I have met with and worked with the nicest people," he said.
Felver is a man of varied interests, which include working 15 years part time for the former Fink's Radio & Television and playing guitar with his family's musical band, Generations.
"I went one day at Fink's to buy a sweeper and came home with a job. Gerald Fink hired me, and I did sales, deliveries, TV towers and repair," he said.
Generations consisted of Felver, who played acoustic and electric guitar, and three of his grandsons.
"We played at a lot of area events, and the music mostly was the oldies, country and easy rock. The band lasted about 10 years and was a lot of fun," he said.
Felver doesn't yet have any specific retirement plans, other than spending more time with his wife, JoAnn, and his children, grandchildren and three horses.
"Since I was 20, I have worked with the city in one way or another. It's been a good experience, and I don't regret any of it," he said. "I will miss working with the public and my co-workers.We've had a good relationship."
Celina Patrolman Chris Wurster has been hired as bailiff.

Goodbye party:
A retirement open house for LeRoy Felver, Celina Municipal Court bailiff, is 1:30-3:30 p.m. Thursday in the municipal courtroom at Celina City Hall