Wednesday, December 19th, 2012
Gelhaus hits milestone in the Indians' blowout win
By Gary R. Rasberry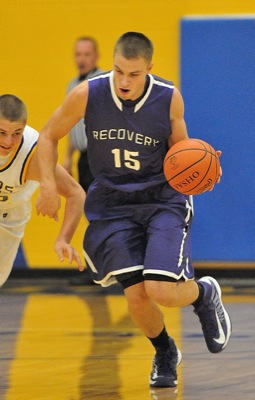 WAYNESFIELD - It didn't take long for Wade Gelhaus to reach a career milestone, but it took a lot longer for Fort Recovery's boys basketball team to shake off a feisty Waynesfield-Goshen squad.
Gelhaus reached the 1,000-point mark for his career in the first quarter, but the Tigers gave the Indians fits in the second quarter before Fort Recovery cranked up the intensity in the second half on the way to a 71-42 win on Tuesday night in Auglaize County.
Needing just five points to reach the career scoring milestone, Gelhaus got plenty of chances early in the game. An attempt at an alley-oop dunk for the 1,000th point was missed, but with 2:12 left in the first quarter, Gelhaus hit a turnaround jumper in the post to hit the milestone.
"It was on my mind," said Gelhaus, who becomes the 14th Fort Recovery player to reach the 1,000-point mark. "But it wasn't the first thing I was looking for. As long as we scored points, that was fine with me."
It looked like it would be a runaway win for the Indians, who led the Tigers 20-4 after the first quarter.
However, the Tigers (3-4) scored nine points off Indians' turnovers in the second quarter and Waynesfield-Goshen outscored Fort Recovery 23-10 in the quarter to decrease its deficit to 30-27.
"We had told them we're not good enough to go through the motions, take plays off and be on cruise control," said Indians' coach Brian Patch. "We jumped out 20-4 and I think we felt like it was going to be easy. Waynesfield battled back and made plays. We had a little talk at halftime, came out and our intensity picked up."
Whatever was said at the break paid dividends quickly. In just over a minute, Fort Recovery was back into a double-digit lead as Elijah Kahlig and Kyle Schroer hit big shots. Fort Recovery outscored Waynesfield 23-5 in the quarter to go up 53-32.
"We were able to respond," said Patch. "That was our tone and message (at the half). You've got to be ready to play every possession. When you're out there, you have to go hard and get after it. I didn't think we did in the second quarter. It was a lot better in the second half," added Patch.
With the Tigers putting defensive pressure on Gelhaus, other Indians stepped up. Kent Retz had seven of his 10 points in the second half and freshman Jackson Hobbs added eight points with a pair of three-pointers in the final half of play.
"We put up 71, and our two big guns (Gelhaus and Kahlig) didn't get 20," said Patch. "That's what we need, balance. If guys can step up and hit some shots, maybe we won't get all that junk (defenses that double and triple team Gelhaus and Kahlig) that we're seeing game in and game out. We have to have confidence, confidence in each other and ourselves to be able to make some plays. Tonight some guys stepped up and hit some shots and that was nice to see."
Gelhaus finished with 17 points on 7-of-14 shooting with 13 rebounds and now stands 1,012 career points.
"It's an honor," said Gelhaus of reaching the milestone. "All the players who have reached 1,000 at Fort Recovery are unbelievable players. To do that is unbelievable."
Kahlig added 16 points and nine Indians scored at least two points.
Dylan Little scored 15 points to lead Waynesfield while Garret Miller came off the bench to score 11.
Fort Recovery will wrap up the pre-Christmas schedule at Fort Site Fieldhouse by hosting Franklin-Monroe on Friday before facing Shawnee on Saturday.