Saturday, January 5th, 2013
Family escapes burning home
Two dogs and several cats perish in blaze; cause unknown
By Shelley Grieshop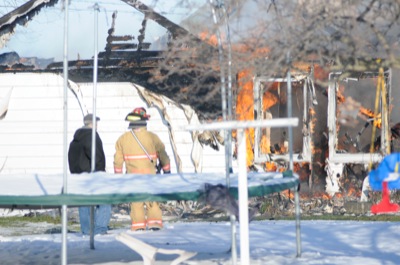 CELINA - A rural Celina family fled their home with only the clothes on their backs Friday morning as flames ripped through their two-story residence.
Thick smoke destroyed the dwelling at 8520 Hoenie Road and forced homeowners Damon and Teresa Randolph to crawl out their bedroom window to safety. Damon Randolph suffered minor injuries but was not treated by paramedics.
The couple's adult son, his girlfriend and their baby were awake upstairs when the fire broke out. They also fled outside and were unharmed, Celina Fire Chief Doug Wolters said.
The family's two dogs and seven cats perished in the fire.
The blaze likely began at the rear of the home, possibly in the attic, but the cause is unknown, Wolters said. The State Fire Marshal's Office is expected on the scene on Monday, Wolters said. The dollar loss was placed at $250,000.
The adult son's girlfriend called 911 at 9:31 a.m. to report the blaze. Teresa Randolph reportedly left the residence earlier in the morning and returned as smoke and flames poured from the home.
"Damon was asleep in the downstairs bedroom. She (Teresa) crawled into the home through the front door to the back bedroom because the smoke was so thick," Wolters said.
Teresa Randolph woke her husband but the couple soon realized their only way out of the burning home was through the window, he said.
Family members were standing outside the home when Celina firefighters arrived, Wolters said. Crews from Rockford and Mendon were immediately called to assist. Six fire trucks and approximately 25 firefighters helped bring the fire under control.
Celina firefighters remained at the home throughout the evening Friday to monitor hot spots.
Wolters said the weather was a big challenge for firefighters.
"The biggest issue was the wind driving the flames," he said. "We'd put them out and the wind would keep driving them."
The frigid temperature - approximately 18 degrees when fire crews arrived - and the snow also presented obstacles, Wolters said.
"It was cold. Everything we touched froze," he said. "The snow was pretty deep in the front yard, too."
Wolters said the family's loss and the devastation to the home is tragic.
"They lost, I mean literally lost, everything," he said.
Deb Hemmelgarn, director of the Mercer County Chapter of the American Red Cross, was at the scene providing support to the family and assisting with emergency needs such as shelter, food and clothing.
"What they had on when they ran or jumped from the windows is all they have," she said. "And it was freezing out there."
The Red Cross will stay in contact with the family to be sure their needs are met and to help them through this disaster, Hemmelgarn said. The public can help by donating funds to the Red Cross for all victims of disasters.
"The old saying is true ... we never think it could happen to us," she said.
- Reporter Eric Adams contributed to this story.