Saturday, January 5th, 2013
Cardinals need OT to slip past Indians
By Gary R. Rasberry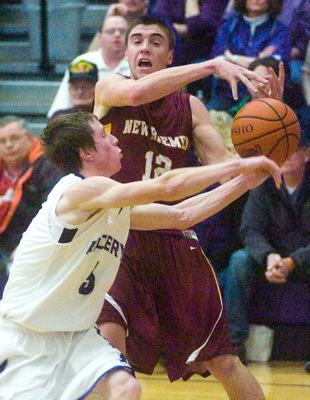 FORT RECOVERY - New Bremen had a hot hand early, but a furious comeback by Fort Recovery sent the game into overtime before the Cardinals edged the Indians 65-61 on Friday night at Fort Site Fieldhouse as Midwest Athletic Conference play resumed after the holiday break.
New Bremen (7-2, 2-1 MAC) looked like it was poised to run away with a blowout win as sophomore Carson Manger put together a shooting clinic in the first half. Manger matched Fort Recovery's halftime point total of 17 by himself on 7-of-11 shooting from the floor.
"We played really well early," said Cardinals' coach Adam Dougherty. "We made a lot of plays early and played hard."
The Indians missed their first seven shots of the game and hit just 7-of-24 from the floor in the first half. Fort Recovery's Wade Gelhaus was just 3-of-11 from the floor with eight points in the opening half.
"To beat a good team like New Bremen, you can't start down 17-7 in the first quarter," said Indians' coach Brian Patch. "You can't dig a hole that much and expect to come back. Obviously, the good thing is we did.
"I think for 13 minutes (in the first half) we played bad. A lot of that was due to (New Bremen). They made plays. We didn't," continued Patch.
The Cardinals had a 16-point early in the third quarter before the Indians began to snap back. Paced by tougher defense and some more accurate shooting, the deficit began to dwindle. A Mason Evers free throw with 4:45 left in regulation brought Fort Recovery to within six points at 48-42. After the Cardinals pushed their lead back to eight, Fort Recovery's Elijah Kahlig netted a three-pointer to pull the Indians to within five. The Indians' comeback was complete with 1:50 left in the fourth quarter as Kahlig hit another big three-pointer for a 51-50 Fort Recovery lead.
"They went more fullcourt and we were really unsound against it," said Dougherty. "We threw it in, got trapped and tried to dribble out of it instead of being sound and tough in the trap."
Gelhaus later hit a free throw to make it 52-50 before missing the back-end of the two-shot foul. New Bremen's Parker Manger was then fouled with 15.6 seconds left in the game and made both free throws to tie the score at 52-52. A last-second shot by the Indians just missed and the game went to overtime.
Carson Manger, who was held to just two points in the second half, started the overtime by getting a quick basket off the tip to put the Cardinals up for good. From there, the foul line proved to be New Bremen's best friend as the Cardinals hit 8-of-12 in the overtime session to fend off the Indians' comeback attempt.
"Carson makes a great play, steals the tip and makes a play. That's a big play out of a sophomore," said Dougherty. "Then we just made free throws and were tough enough to make a couple of stops. If we get a couple defensive rebounds at the end of regulation, it doesn't go into overtime. We weren't tough enough at the end of regulation, and a lot of credit goes to (Fort Recovery)."
"I'm proud of our kids and how we battled back," said Patch. "We became kind of gritty and were able to make some plays and make it a close ball game with a chance to win. But we can't put ourselves in that position and expect to beat good teams."
Carson Manger led the way for the Cardinals with 25 points, Ben Homan added 13 points and 11 rebounds and Schwieterman scored 10.
Gelhaus, the Grand Lake area's leading scorer, finished with 26 points and 13 rebounds, but was just 9-of-32 from the floor. Kahlig was 5-of-8 from the three-point range and finished with 19 points.
Both teams make road trips tonight. New Bremen will play their rescheduled game at St. Marys tonight with a 6 p.m. JV tip. Fort Recovery heads north to Van Wert County to face Lincolnview. The Indians will play their postponed game with Franklin-Monroe on Tuesday night.