Friday, February 8th, 2013
Wildcats win sixth straight in the MAC
By Robb Hemmelgarn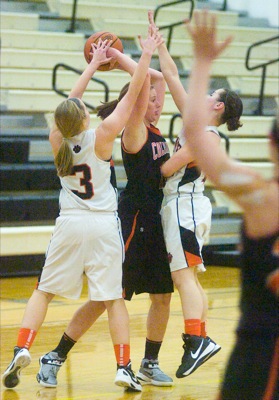 MINSTER - Just before Christmas, Nann Stechschulte's Minster Wildcats sat at 1-2 in the Midwest Athletic Conference after tough losses to New Knoxville and Versailles.
Although they didn't capture the MAC crown this season, the Wildcats shook off their unfavorable start and concluded the conference slate by claiming six straight league wins, including a 47-31 triumph last night over the Coldwater Cavaliers at the Minster Middle School.
"We had moments tonight where we looked very good and there were other times where I just shook my head," explained Stechschulte. "I give Coldwater credit - they are a good team who is young and works very hard. These last few games are great tune ups for us before tournament."
The two teams went toe-to-toe at the start before an old-fashioned three-point play from Minster's Logan Arnold and a baseline jumper by Claire Fischer put the Wildcats on top 10-4.
The Cavaliers (13-8, 4-4 MAC) trimmed their deficit to two points with baskets from Brooke Welsch and Sarah Kanney, but a Sara Dahlinghaus jumper gave the Wildcats (13-6, 7-2 MAC) a 12-8 advantage after one quarter of play.
The Wildcats scored the first four points of the second stanza to push in front by eight points, but over the course of the rest of the quarter, the Cavaliers climbed back into it before a three-pointer by Kanney and a free throw from Welsch knotted the score at 18-18. However, Minster took a 21-18 lead into halftime after Fischer connected from three-point range.
"We got off to a good start and then Coldwater made a little change defensively midway through the second quarter," Stechschulte pointed out. "We didn't respond to that very well and they caught up. We knew that we needed to come out after the halftime break and handle things a little better."
The Wildcats then turned up the intensity on defense and outscored the Cavaliers 14-2 in the third quarter to grab a commanding 35-20 advantage, heading into the final eight minutes of play.
"We climbed back into the game right before halftime and I felt the girls had a good understanding of how hard they needed to play to come out on top," said Coldwater head coach Nick Fisher. "Then we came out in the third quarter and we were out-hustled. That is what hurt us the most."
Although the Cavaliers seemed to shake off their offensive sluggishness from the third quarter, they couldn't rise out of the 15-point hole.
"We didn't bring our A-game tonight," Fisher concluded. "I am a firm believer that it all begins in practice and we need to get back after it before next week."
The Wildcats were led by Fischer and Dahlinghaus with 12 points apiece while the Cavaliers were paced by Brooke Welsch's game-high 13 points and eight rebounds.