Friday, February 8th, 2013
Burgeoning young scientists put brains, hands to work
By Eric Adams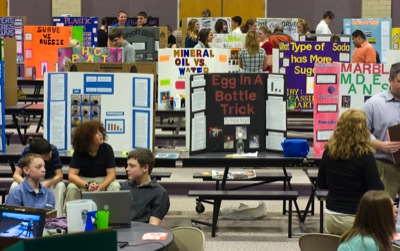 FORT RECOVERY - Middle school students had their hands in dirt, dish soap and dye recently as they prepared for the school's annual science fair.
Experiments and poster boards displaying the results of the students' hypotheses filled the auditeria Thursday as judges inspected the work.
Seventh-graders Cindy Dues and Taylor Thien dumped dish soap into bowls of oil for their project about cleaning oil spills. They found that soap, which was used in 2010 to clean oiled birds after BP's Deepwater Horizon spill, can actually worsen environmental health.
"Oil has buoyancy, but the (dish) soap sinks the oil," Dues said.
When oil sinks, it can damage fish habitats.
"We know (spills) don't happen daily or even monthly, but it's still a big problem in our country," she said. "When there's a spill, it loses one of our main nonrenewable resources."
Aaron Homan, Dustin Alig and Gabe Grieshop, also seventh-graders, invented a field tiller. Made from an old bicycle frame, the tiller first separates dirt with a front saw blade wheel. A tube then funnels nutrients into the crevice, after which the back wheel, taken from a lawnmower, packs the soil back down.
Their design, they said, is intended to prevent nutrient runoff into Grand Lake.
Cousins and cosmetological chemists Katie and Valerie Jutte, both eighth-graders, pitted two hair dyes against each other to determine which lasted longer.
The Natural Instincts brand Valerie tested was found to have more staying power than its Nice and Easy competitor that Katie tested. The girls also noted there were factors, such as Valerie's hair is thicker and she uses well water at her home, that may have impacted the experiment.
Crystal Fullenkamp, who teaches seventh-grade science and Science Technology, Engineering and Math classes at the school, said the students have been working on their projects since October. Sixth-graders were told to explore scientific method, seventh-graders were assigned environmentally-based projects and eighth-graders conducted consumer testing experiments.
"Most of the work is inquiry based, meaning it happened outside of the classroom," she said.
Fullenkamp added that despite being largely independent efforts, the projects still paralleled curricular content. Also, the science fair accounts for many of the state's requirements for STEM, a state educational initiative designed to foster hands-on approaches to science and mathematics.
Sixth-grade science teacher Carrie Kahlig said the fair was resurrected 15 years ago after a discontinuation.