Wednesday, May 22nd, 2013
Area people send help
Oklahoma tornado
By Eric Adams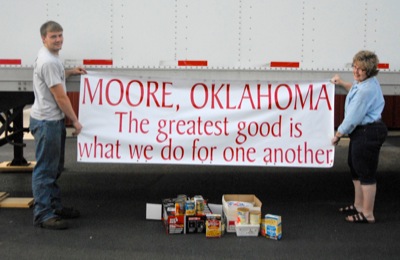 WAPAKONETA - A humanitarian effort that started Tuesday in an embroidery shop rapidly spread to a local farmer, truck driver, and many residents eager to give aid in the aftermath of Monday's devastating tornado.
Judy DuBois, owner of Wapakoneta's Auglaize Embroidery, is hosting a food and supplies drive through Friday. All donated items are to be hauled via semitrailer directly to victims in Moore, Okla.
Deb Regula, employee at Auglaize Embroidery, felt compelled to lend a hand when she saw the destruction Tuesday morning on television.
"We were talking about the school, and just how awful it is; I said 'it makes me want to load a semitrailer and send it out there,' " said Regula. "Then (Judy) said 'you know, we could do that.' "
Regula's husband Rick, who contracts hauling jobs independently, happily offered his driving hours and a truck cab to the cause. He will be accompanied on the multi-state trek by her sons-in-law, Jake McEvoy and Bryan Zofkie.
Another contribution quickly followed when Jay and Stephanie Fisher of Wapak's J&S Farms lent their trailer. Jay Fisher is DuBois' cousin.
Then came the phone calls, which reached a near-constant level when word got around.
"It got out (Tuesday) morning; we hadn't even put it on Facebook yet and already had people bringing stuff in," she said. "I think we'll get a good turnout."
St. Joseph's Catholic Church in Wapakoneta, as well as the city chamber of commerce, served as mouthpieces for the drive. DuBois also called high school football coach Doug Frye, asking if players could assist with collection and loading.
Neither Regula nor DuBois has relatives in Oklahoma, and neither had organized a collection drive prior to this week. Still, a strong sense of small-town unity prevailed.
"You never know when (disaster) could be in your own backyard," said Regula. "I wouldn't trade places with them for the world, but I'll do anything to help."
"You like to think that if the same happened to you, somebody would help," added DuBois.

Food, supply drive:
Where: Auglaize Embroidery, 4 N. Wood St., Wapakoneta
When: Today until 9 p.m., Thursday 9 a.m.-9 p.m., Friday 9 a.m.-5 p.m.
Bring: Non-perishable food items, water and Gatorade, diapers and infant wipes, band-aids and bandages, toothbrushes and paste, soap and other non-flammable cleaning supplies
Don't Bring: clothing, bedding, perishable food