Wednesday, May 22nd, 2013
Parkway's offense rolls with two outs
Division IV District Softball at Elida
By Gary R. Rasberry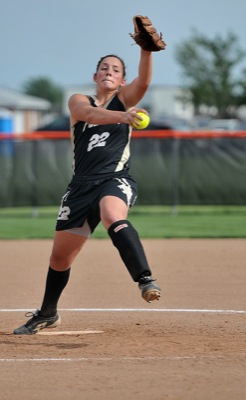 ELIDA - Just when it appeared that Parkway's softball team was about to leave runners stranded on second and third in the first inning, the timely two-out hit came along.
Then another, and another...
The Panthers collected nine straight two-out hits, resulting in nine runs in the first inning as Parkway advanced to the Division IV district final with a 10-0 win in five innings over Patrick Henry on Tuesday at Dorothy Edwards Field.
Parkway (19-5), ranked fourth in the final Division IV coaches' poll, awaits the winner of today's Lincolnview-Continental semifinal for Friday's 5 p.m. final.
Kayla Walls led off the first inning by reaching on an error before Rachel King bunted the runner to third with Kylie Snyder grounding out to third. Sierra Fent was then walked to put two runners on base for Lindsey Walls, who blooped a two-run single to rightfield for a 2-0 Parkway lead.
Eight more hits followed for the Panthers. An RBI double by Terra Walls, a two-run home run by Ashlynn Henderson, a single by Zoey Pond and an RBI single from Olivia Smith put the Panthers on top 6-0. Kayla Walls, Snyder and Fent followed with RBI singles to cap the nine-run outburst with all of the runs being unearned.
"I can't remember putting that many (two-out hits) together," said Parkway skipper Mark Esselstein. "I told the kids the thing is, they were all unearned. If they had gotten the first out of the game on (Kayla) Walls, then it's a totally different ballgame. Then they didn't give Sierra anything to hit to get to Lindsey, and she had a seeing-eye blooper to right to score two runs. Then the floodgates opened and the rest of the kids started tattooing the ball. That's good see."
Parkway got one more run off Patrick Henry starting pitcher Katie Kurtz, a solo homer by Terra Walls to start the second, before King's double in the third chased Kurtz. Alison Imbrock came on to pitch for the Patriots (15-9) and held Parkway hitless for the final three innings.
"(Kurtz) throws slower than what we've been used to seeing," said Esselstein. "We've been working hard on that.
"(Imbrock) was a change. She was a little herky-jerky on her motion and a little quicker. When you've prepared for one, you're never upset when you get to their number two because things are going well. We'll have to make an adjustment for Friday, regardless, whether we're playing Continental or Lincolnview, but we have a few days."
Fent earned her 13th win of the season. She walked two and gave up two hits - both to Kayla Fintel - while throwing a complete-game shutout with nine strikeouts.
"She was having trouble hitting spots as consistent as she was," said Esselstein. "I don't know if Patrick Henry has seen her velocity very often if at all this year. That's a tough adjustment to make."
King and Terra Walls each had two hits for the Panthers while Lindsay Walls, Terra Walls and Henderson each drove in two runs.