Thursday, June 20th, 2013
St. Marys officials visit sister city
By Amy Kronenberger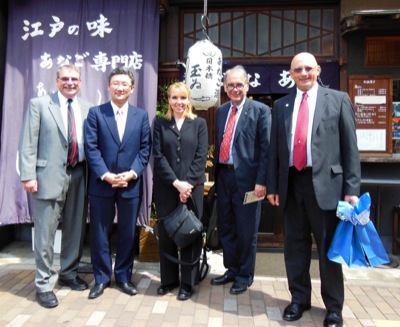 ST. MARYS - A recent trip to Japan helped strengthen a longtime friendship and encourage further economic growth in St. Marys, according to local officials.
Four city leaders in April traveled to Tokyo to meet with business executives of companies already established in St. Marys and one that is considering the area.
In a presentation to Rotarians on Wednesday, economic development director Susan Crotty said the main reasons for the nine-day trip were to nurture business retention and expansion in the area and to continue the friendship with Awaji City. Joining her in the presentation was law director Kraig Noble.
"We've had a very strong relationship with Awaji City ... and we continue that relationship," she said. "It's one of the strongest sister city relationships; it's been active for 27 years now so we want to keep that active and maintain that relationship."
During their time in Tokyo, the delegation comprising of Crotty, Noble, mayor Patrick McGowan and council president Dan Hoelscher met with Yuunjin Kimura, owner of Toyo Gosei Co., Ltd. Toyo Gosei develops photosensitive chemicals used in technology and owns 32 acres of vacant property on McKinley Road in St. Marys.
Kimura's father previously ran the company and was responsible for purchasing land in St. Marys.
"The elder Mr. Kimura had been in St. Marys three or four times over the years; he started coming here in the late '90s," Noble said. "Their company bought that land, but for various reasons - a downturn in the economy, some building issues - they decided not to build."
Noble said Kimura always remained on friendly terms with St. Marys and now that his son has taken over, city officials hope to rekindle the interest.
Crotty said Toyo Gosei is growing with a new facility recently opened in Awaji City. The younger Kimura promised he would try to visit St. Marys sometime this year to consider further expansion.
The St. Marys delegation also met with executives from Tachi-S, majority owner of Setex. Setex is constructing a 40,000-square-foot expansion of its facility in St. Marys and will hire more employees later this year, Crotty said.
"They are very happy to be in St. Marys, I'm glad to report," Crotty said.
The following morning, they met with executives from Hitachi Metals, parent company of AAP St. Marys Corp. The business has added 150 new employees in the last two years.
"What I took away from all this is that there's tremendous growth potential in our existing businesses," Crotty said.
Hitachi ex-
pressed concern, however, about not having an adequate labor force when considering future growth, she added.
"That's something we've been trying to address through initiatives like Hometown Opportunity and our Workforce Development Initiative," she said. "So we're doing a lot here, but sometimes it just comes down to the number of bodies within a certain radius ... Hopefully we'll be able to meet that challenge and bring in more employees."
While in Awaji City, the delegates were treated to customary Japanese practices, including a traditional tea ceremony and a lesson in Kendo, a type of martial art that focuses on bamboo swords.
"The challenge of the tea ceremony was to kneel in that position for a half an hour," Noble said. "For some of us older folks, that's a little more difficult."
The delegates also toured the earthquake museum, which is dedicated to preserving the history of the Great Hanshin Earthquake of 1995. The quake measured 7.3 on the Richter Scale and caused 6,434 deaths.
Crotty said one Awaji City resident, who once lived seven years in St. Marys, is organizing a sister-daycare program with TLC Learning Center. She also hopes to start a sister-school program. Crotty added a youth delegation will be arriving in St. Marys on July 25.
On their final night, Awaji City hosted a celebration dinner for the St. Marys officials, where they exchanged gifts and enjoyed a traditional dance performed by locals.
In what little free time they had, the delegates did some sightseeing, visiting museums, gardens, monuments; attending and participating in a festival; and eating in centuries-old restaurants.
"If you're ever interested in going, it's a long flight, but it's well worth it," Crotty said. "We were treated very well, we had a good time, had a great experience. Again, I think we strengthened our relationship with our business community and with our sister city."
The trip cost the city $22,500, $10,500 more than originally planned. The budget first had $12,000 earmarked for two officials to attend, however, council approved the additional money this spring to allow two more to participate.