Thursday, June 20th, 2013
Bertke commits to Pittsburgh
By Ryan Hines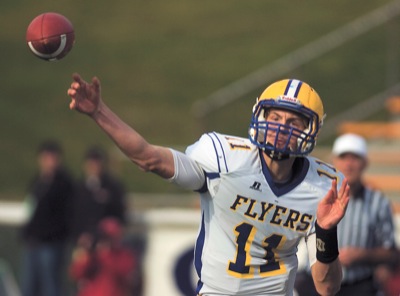 A busy summer has helped relieve some stress as Adam Bertke prepares for his senior year of high school.
Marion Local's star quarterback attended several camps and visited a few schools in recent weeks before verbally committing to the University of Pittsburgh on Tuesday.
"It has been a long process to get to this point. I wanted to commit before the season started to take some stress off and now I feel a little relieved," said Bertke, who also held scholarship offers from Akron, Bowling Green, Illinois, Kent State and Toledo.
Although the recruiting process began when he was a sophomore, Pittsburgh didn't show interest until after this past season.
"Pitt was a little later than the others. The first I was aware of them was in April," said Marion Local head coach Tim Goodwin. "He was patient throughout the recruiting process and I think in the end he found a place where he fits in and the coaches made a good connection with him."
"I went to their camp on June 7th and they offered me there. I got a chance to meet their coaches and see their facilities. I had an idea I wanted to go there, so I went back there on Tuesday again and verbally committed," said Bertke. "The whole recruiting process was a little stressful at times. I saw some schools that I was strongly considering adding quarterbacks that were in my same class, but I think that everything worked out well in the end."
After competing in the Elite 11 quarterback camp in Columbus and attending camps at Pittsburgh and Purdue, Bertke also made visits to Kent State and Akron. In the end, Pittsburgh had what Bertke was searching for.
"I saw a lot of good things from the other schools that were recruiting me, but the people at Pitt set them apart from the rest," said Bertke. "They all had nice facilities, but it all came down to the coaching staff and players. I just felt really comfortable with Pitt."
Bertke, 6-foot-6 and 210 pounds, caught the attention of Division I programs after leading Marion Local to back-to-back Division VI state championships while compiling impressive individual statistics. As a sophomore, Bertke completed 131-of-222 passes for 2,233 yards and 25 touchdowns while adding 171 yards rushing and another four scores. Last season, Bertke was 173-of-277 through the air for 2,237 yards and 13 touchdowns while also adding 1,067 rushing yards and 15 TDs. Bertke has helped Marion Local to a record of 26-4 (10-0 in playoffs) over the last two seasons.
Bertke still has unfinished business before starting his collegiate career at Pitt.
"Going into my senior year, I'm focused on helping us make the playoffs and having a solid playoff run," said Bertke, who was also a first team All-Ohio safety last season. "We have big targets on our backs going into the season but our goals are set high."
Goodwin has been impressed with Bertke's progression as the Flyers' QB.
"Adam has a strong arm, he's accurate and just a talented kid. I noticed his talent a long time ago and he has really worked hard to be the type of player that he has become," said Goodwin. "He has really become a leader that we have been able to count on over the past two years."
Bertke is the first Division I football recruit at Marion Local since offensive lineman Tim Dirksen played for the University of Toledo in the early 2000s.