Wednesday, August 21st, 2013
Auglaize voters to decide on parks levy
By Amy Kronenberger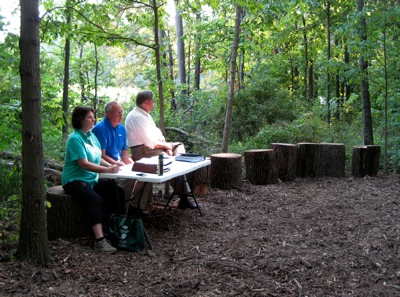 ST. MARYS - Voters in May will decide a property tax levy to fund the creation and maintenance of parks throughout Auglaize County.
Heritage Trails Park District commissioners Dan Stilwell and Greg Myers on Tuesday approved certifying the levy with county auditor Janet Schuler to determine millage and revenue. Commissioners estimated the millage will be about six-tenths of one mill.
Stilwell said a main source of income for the district is state funding, which will be $18,802 next year. The amount is up slightly from this year and 2012 - $18,792 - but is down from the $30,000 the district received in previous years since its founding in 1996. Donations account for the remainder of the district's $53,000 annual budget.
Revenue is expected to keep declining, leaving little to no extra money after paying the salary of part-time executive director Allison Brady. Commissioners serve on a volunteer basis.
If the levy fails, the park district wouldn't cease to exist; it would continue with whatever funds it had, Stilwell said. Work would continue on park projects through the help of volunteers and donations.
"We wouldn't be able to keep our part-time executive director, and we wouldn't be able to apply for any matching grants," he said.
Most state grants require some matching funds.
If the levy is approved, the district would be able to provide more secure employment for Brady, establish a fund to maintain and improve existing parks, create new park opportunities, develop educational programming for adults and children, apply for grants and fund volunteer programs to get the community more involved.
Brady said Wright State University-Lake Campus organizational leadership students conducted a survey for the district as a project for their capstone course. The survey asked a balanced sampling of 258 registered voters from every precinct in the county if they knew of the park district, what they thought of it and if they would support a levy.
The survey revealed that in western Auglaize, where Heritage Trails has active park land, residents are well-educated about the district. However, in the eastern half of the county, where no active park land exists, residents had not heard of Heritage Trails.
The survey also revealed that residents throughout the county supported the park district's mission and they responded favorably to the levy.
"(The survey) will be useful to direct our activities from this point forward and to determine how we move forward with our campaign," Brady said.
Also during Tuesday's meeting, Brady said work on the new Dr. Elizabeth Yahl Kuffner Nature Preserve is almost complete and will be ready for its dedication at 10 a.m. Sept. 7. Brady and commissioners held Tuesday's meeting at the preserve, sitting on tree stumps gathered around an imported table as a way to promote the new park.
The preserve is nearly 16 acres of wooded land with walking trails cleared for the public. It is located about a 1/2 mile west of the St. Marys middle and high school on county Road 66A near 40-Acre Pond.
The woods was donated to Heritage Trails by Elizabeth Kuffner's son, John Kuffner, and his wife, Alma. John Kuffner died shortly after making the donation.
"His family was adamant the woods should not be a memorial to him but should remain a tribute to Elizabeth," Brady said. "John wanted this to be a tribute to his mother."
Elizabeth Kuffner was a practicing physician and surgeon in St. Marys from 1938 until her retirement in 1985. She was one of the first local doctors at Joint Township District Memorial Hospital.
Brady said she and several volunteers worked through the summer to clear walking paths in the woods, taking care to remove as few trees as possible. A St. Marys woodworker voluntarily constructed benches to place along the path, trail markers and a kiosk at the entrance of the park that will contain a map and other information.
Brady will schedule one more work day before the dedication to paint the kiosk and complete other finishing touches. Anyone interested in volunteering or donating to the park district can call Brady at 419-202-6053 or go online at www.facebook.com/heritagetrailspd.