Wednesday, August 21st, 2013
Cavs capture county crowns
Mercer County Cross Country Invitational
By Gary R. Rasberry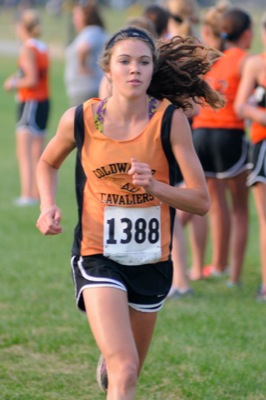 ROCKFORD - To say that Sarah Kanney and Christina Seas had a strong start to the fall sports season would be an understatement.
Posting times that would have put them in the top 10 of the boys' race, the Coldwater tandem cruised to victory in the girls' competition at Tuesday's Mercer County Cross Country Invitational held at Parkway High School. Coldwater won the high school boys' and girls' team titles and the Cavaliers nearly swept the combined four races that took place but Celina's Middle School boys spoiled the clean sweep.
It wasn't much of a surprise that Kanney, the defending state champion in Division III a year ago, and Seas, who finished sixth at state in 2012, were going to be at the front when they came to the finish line, but the times posted and the margin of victory were mighty impressive.
Kanney led from start to finish and crossed the finish line in a a time of 18:45.01, just under six seconds ahead of Seas, who posted a time of 18:50.95.
Fort Recovery's Elle Sutter finished third in a time of 21:18.88, 2 1/2 minutes behind Kanney while St. Henry's Courtney Kunk was fourth at 21:46.81 with Coldwater's Lauren Seas fifth at 22:11.79.
To put the times in perspective, Kanney would have finished seventh in the boys' race and Seas would have been ninth.
"Yeah, it was a pretty good race, for the conditions," said Kanney, referring to the warm weather for the race.
"I figure it's my senior year and I should leave it all out there," said Christina Seas. "There wasn't a lot to be nervous about, it was the first race of the season. I figure as long as I was having fun and trying my best, that's all I need to do."
Rounding out the top 10 for the ladies were Marion Local's trio of Courtney Albers (22:35), Olivia Hemmelgarn (23:05.17) and Beth Wolters (23:08.35) followed by Fort Recovery's Caitlyn Huelskamp (23:13.61) and Celina's Jenna Coon (23:16.53).
Coldwater won the team title with 25 points and Marion Local scored 30 for second followed by Fort Recovery (33), Celina (24), St. Henry (40) and Parkway (42).
In the high school boys's race, Coldwater's duo of Jon Wenning and Dan Seas along with Celina's Cole Mertz broke out early from the rest of the field. As the front of the pack headed for a final loop toward Don Black Field and back to the track, Mertz surged to the front. As the field came back into view, Seas was in front as he came to the finish line in a time of 17:19.36. Mertz and Wenning dueled down the grassy stretch of the infield with Wenning (17:28.36) holding off Mertz (17:30.42) for second.
St. Henry's Scott Knapke was fourth at 18:02.56 and Celina's Drew Donovan was fifth at 18:19.97.
"About the last mile, I was feeling tired but I still thought I could get them," said Dan Seas. "We were all feeling tired. It was hot and the course was rocky. Everyone was feeling the same thing, so I thought I could go out and get them."
The 1-2 punch of Seas and Wenning provided enough of a cushion for Coldwater to edge Celina 47-49 for the team title. St. Henry was a distant third at 79 followed by Fort Recovery (81), Parkway (135) and Marion Local (149).
Rounding out the top 10 individuals were Fort Recovery's Derek Sutter (18:20.15), Parkway's Caleb Rollins (18:50.04), St. Henry's Ryan Barhorst (18:46.55), Fort Recovery's Travis Sutter (18:57.46) and Coldwater's Seth Stammen (19:09.60).
The Seas family started its successful day when Jenny Seas won the Middle School Girls' two-mile race in a time of 13:16.20, helping the Cavaliers take the team title with 23 points with Fort Recovery second at 59.
In the Middle School Boys' race, Celina's Adrian Hurley took the individual win in 11:41.75 with Coldwater's Matt Seas in second. The Bulldogs won the boys' title with 38 points and St. Henry was second at 53.