Wednesday, August 21st, 2013
St. Marys girls and New Bremen boys claim titles
Auglaize County Cross Country Meet
By Mark Ruschau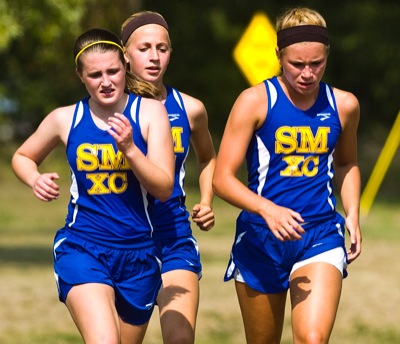 ST. MARYS - New Bremen's boys and St. Marys' girls opened their cross country season by capturing team titles at Auglaize County Cross Country Preview Meet on a hot, humid, Tuesday afternoon at St. Marys High School.
New Bremen placed three runners in the top six and five runners in the top 12 to capture the boys' team title with 36 points, seven points better than runner-up Wapakoneta. New Knoxville was third with 70 points followed by St. Marys (79) and Waynesfield-Goshen (126).
The Lady Roughriders placed five in the top ten to end the day with 28 points. Wapakoneta placed second with 52 points, which was one point better than third-place New Bremen while Waynesfield-Goshen was fourth. Minster was the only school in the county to not participate in the meet.
"Amanda Dues twisted her ankle yesterday and just kind of got through the race today," said St. Marys coach Rob Cisco. "We had a freshman in Kelly Wilker that stepped up today and ran well. As for the team, they ran very well and I am excited for the rest of the season."
Dues paced St. Marys with a second-place finish in a time of 22:48.12. Joining Dues in the scoring spots for the Roughriders were Morgan Hertenstein in third (22:49.18), Kelly Wilker in fifth (22;55.04), Hannah Tobin in sixth (22:59.38) and Rochelle Sudman in 10th (24:50.89).
"It was definitely hot out there today and it definitely affected the way the race was run," said Dues. "I was really proud of the way the team stepped up. We were missing one of our top runners and I was really proud of the way the rest of the team sucked it up and ran well."
New Bremen was led by Aly Elking in seventh place with a time of 23:21. Other girls in the scoring spots for the Cardinals were Ashley Berning in eighth, Veronica Hirschfeld ninth, Erica Heitkamp 13th and Marissa Frazee 15th.
The individual winner in the girls' race was Wapakoneta's Allie Zofkie in a time of 20:23.48. A pair of New Knoxville Rangers placed in the next two spots as Cassie Broyles (20:37.54) was second and Hannah Privette (21:49.52) third. Rounding out the top five in fifth place was Wapakoneta's Sydney Sutton (22:52.34).
New Knoxville's Issac Kuntz was the individual winner in the boys' race with a time of 17:28.96, which was 44 seconds faster than runner-up Dylan Plaugher of Wapakoneta (18:06.29). Third place went to New Bremen's Cort Speckman (18:16.95) and fourth was the Cardinals' Nathan Herriot (18;33) while Wapakoneta's Will Zofkie rounded out the top five.
"I was about a minute off of the time I ran on Saturday, this course was rough, it had a lot of pot holes in it," said Speckman. "I was a minute off but the competition was tough and the course was tough, so it was a good day."
Rounding out the top five for New Bremen were Brad Rammel in sixth, Drew McClurg (11th) and Jason Zircher (12th)
The top individual performance by St. Marys was turned in by Matt Schroyer who placed 13th with Matt Jutte (14th), Zack Goodwin (16th), Forrest Baldwin (17th) and Kyle Oswalt (19th) rounding out the Roughriders' top five.
The boys' junior high race was won by New Bremen's Ezra Ferguson in a time of 13:34.43, which was just a second faster than runner-up Caleb Schlenker of Wapakoneta. The team title went to Wapakoneta with 18 points, 19 points better than runner-up New Bremen.
New Bremen's Lily Hirschfeld won the girls' junior high title with a time of 14.18, which was 53 seconds faster than runner-up Laura Donovan of St. Marys. Wapakoneta won the team title with 42 points, St. Marys was second with 45 points and New Bremen was third with 49 points.