Wednesday, August 28th, 2013
Redskins rebound after first game
By Gary R. Rasberry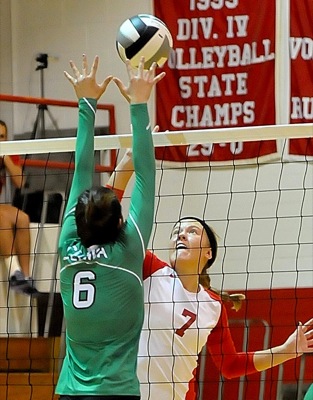 ST. HENRY - Just when it looked like Celina's volleyball team had the momentum after winning a tight first game, St. Henry took control of the match.
The Bulldogs outlasted the Redskins for a 29-27 triumph in the opening game of the Mercer County matchup but St. Henry roared back to win the final three games 25-17, 25-16 and 25-22 to knock off Celina.
The first game went back and forth with 15 ties, seven lead changes and neither team could build more than a two-point lead. Celina (2-2) was the first to reach game point at 24-23 after a Mackenzie Dzendzel kill, but Rachel Davis tied the score for St. Henry with a kill. The Redskins later had game point with Sam Thobe serving but Celina's Beth Goettemoeller had a kill to retie the score. The back-and-forth action continued until the Redskins had two straight hitting errors that gave Celina the win.
"That first game, it was back and forth," said Redskins coach Diana Kramer. "It was side-out, point; side-out, point the first 15-16 points of the game. I said the team that would win would be the first team that went on a run. We had a lead and let it slip away."
Celina's momentum, however, was short-lived as St. Henry (3-1) took control after tying the second game at 6-all. Thobe then served up six straight points as Olivia Stahl, Kenisa Post and Davis all had kills to put the Redskins on top 12-6. The Bulldogs got no closer than three points the rest of the way.
"We were just slightly out of position a few times. We just let some of those points they scored affect us mentally where we sort of let up," said Celina coach Amy Sutter. "I don't know if we were tired. I think they (St. Henry points) were our mental mistakes and lack of energy that got us down a little bit."
Celina jumped in front 7-4 early in the third game, but St. Henry's Madison Broering served up seven straight points, including two aces, that helped give the Redskins a 12-7 advantage. Post later served up two aces of her own during her service run and the Redskins were never threatened.
"I was encouraged how we came out the second and third (games)," said Kramer. "We were able to win because after the first set, we could have had a letdown but we came out fired up and ready to play."
Celina, however, didn't back down and jumped in front 6-2 in the fourth game. A Broering service run, coupled with kills by Thobe and Post and blocks from Post and Ally Mikesell, gave the Redskins a 9-6 advantage. The Bulldogs were able to retake the lead at 12-10 but St. Henry pulled away again, with Thobe getting a kill to close out the match.
"We suffered a big loss against Leipsic (in the Mercer Health Invitational final at Celina on Saturday) and I preached showing a lot of heart and pushing back every point because you never know when you can turn the tide of the game," said Sutter. "We never quit. That was sort of our mental focus."
The key to the win for St. Henry was the ability to slow down Celina's standout middle-hitter Michaela Wenning. The Bulldogs' senior had six kills in the opening game but had just seven kills more the rest of the way.
"She may be the best middle we play all season," said Kramer of Wenning. "First game they were passing extremely well. Rest of the match, we tried to get them out of (their) system as much as possible. When (Celina) is out system, they can't set her because she's playing middle. She's a fantastic player. She caused us a lot of problems tonight."
Stahl had 12 kills for St. Henry and Thobe added 11 kills.
Goettemoeller had eight kills for Celina and Weininger added five.
Both teams enter league play on Thursday. St. Henry travels to New Knoxville for the Midwest Athletic Conference lidlifter while Celina will host Bath in the Western Buckeye League opener.