Tuesday, September 3rd, 2013
Host 'Riders take runner-up honors
Roughriders Volleyball Invitational
By Gary R. Rasberry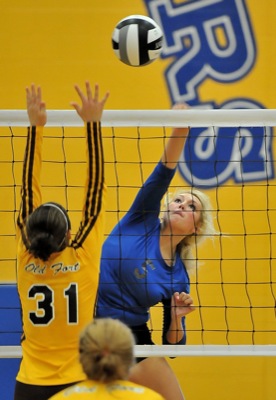 ST. MARYS - After starting out the season with five straight losses, St. Marys' volleyball team was looking for a spark when they hosted their annual Roughriders Invitational on Saturday.
The Roughriders advanced to the finals after winning their two pool matches and then took part in a three-set battle against Pandora-Gilboa. St. Marys had to settle for second place after a 25-19, 22-25 and 25-23 loss to the Rockets.
St. Marys (2-6) started the day with a win over Spencerville in matching 25-12, 25-12 sets before racing past the Stockaders of Old Fort with a 25-12 and 25-16 triumph.
In the first game of the final, the Rockets got off to a quick start with a 4-1 lead and the Roughriders could never rally before losing by six points, 25-19.
Game two was balanced and neither team was able to pull out to a sizable lead. As the game wore on, the Roughriders relied on the hitting of Erika Angstmann, LeeAnn Bertke and Reagan Aller. The trio helped St. Marys to reach set point with a 24-20 lead. The Rockets pulled to within two points at 24-22 before Angstmann finished the game with a kill for a 25-22 Roughriders' victory.
"I'm proud of the girls. First game (of the final) we got out to a slow start," said St. Marys head coach Monica VanderHorst. "We played them tough. Second game we played with enthusiasm."
Game three was wild and wooly with several replays and close calls throughout. P-G looked prime to close out the match when they got to set point at 24-21, but St. Marys scored a point to get back the serve. The Roughriders then cut their deficit to one point at 24-23 on an ace by Ally Angstmann but the Rockets' Olivia Maag ended the match with a block.
"Defensively, we did some things I haven't seen previously out of us," said VanderHorst. "Ally Angstmann had 16 digs in the match. Erika and Reagan had 15 kills apiece in that match.
"I'm proud of the girls' effort, but I know we can still get better. It was a great tournament. Pandora deserved to win because they did the little things that we didn't quite do," added VanderHorst.
Erika Angstmann had 36 kills combined in the tournament to lead St. Marys with Aller adding 32 kills. Natalie Kuenning dished out 83 assists with Ally Angstmann recording 33 digs.
Fort Recovery finished in third place for the tournament. The Indians struggled in their first match of the day against Pandora-Gilboa, losing 25-12 and 25-23. Needing a win to avoid being shut out in pool play and dropping to the fifth-place match, the Indians struggled in their first set against Allen East as the Mustangs won 25-17 before Fort Recovery bounced back for 25-14 and 25-17 wins in the next two games. The win over Allen East also helped the Indians earn the tiebreaker needed to advance to the third-place match against Old Fort.
The Indians were strong in the first set, winning 25-14. It looked like the second set would be a repeat, with the Indians up as much as nine points at 20-11 before the Stockaders roared back to get within two points at 24-22. The Indians regrouped and closed out the match with a 25-22 triumph.
"We struggled in the first game (against P-G). If we had played our game, we definitely would have come out on top or be a little closer than we were in the first game," said Indians coach Kylie Huelsman. "I told the girls a thousand times that we have to play our game and communicate. We're a good team. Hopefully, the rest of the season we can play at the top of our level."
Tori Lennartz, Cassidy Rammel and Kendra Siefring each had 18 kills in the tournament to lead Fort Recovery while Sierra Pugh dished out 55 assists.
Allen East finished in fifth place after beating Northwest Conference rival Spencerville 25-12, 25-12.
St. Marys hosts Auglaize County rival New Bremen tonight, while Fort Recovery is off until Thursday when it travels to Marion Local.