Thursday, September 19th, 2013
Vintage clothing brings Civil War era alive
Program gives youth chance to see what was worn during 1860s
By Margie Wuebker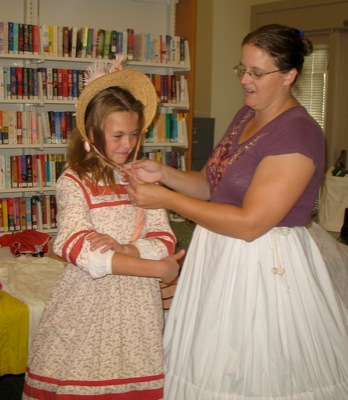 MINSTER - Giggles rippled through the normally quiet Francis J. Stallo Memorial Library on Wednesday afternoon as local youths came face-to-face with corsets and other Civil War-era clothing.
"I see you are all dressed in the fashion of 2013," said program presenter Jennifer Rounds of the Ohio Historical Society in Columbus. "You're all showing too much skin."
Sleeveless tops and shorts wouldn't have made the grade in the 1860s, she said. Offenders faced a likely jail sentence for indecent exposure, she added.
Twelve-year-old Gwen Meiring quickly learned young ladies required extra time to dress in those days, even if the occasion was plucking weeds from the garden.
With raised eyebrows, she hesitantly placed one foot and then the other into underwear that resembled a long, buttoned slip with an open bottom - clothing that appeared suitable for squatting behind bushes when nature called.
"Girls liked fancy things even in those days," Rounds said, pointing to the garment's eyelet detail and hand-stitched tucks. "They practiced their fancy stitches on underwear no one would see."
Young girls even wore corsets designed to shape their bodies. Laces in back were drawn more tightly as they blossomed.
"I can take 5 inches off my waist but I can't bend over," Rounds said, donning one of the restrictive garments. "A corset forced the hip and chest bones down and out ... even the lovely Scarlett O'Hara would have been slightly distorted."
Multiple petticoats and crinoline hoops gave dresses a desired pouffy look, according to Rounds. But sitting required extra effort so the hoop didn't bounce upward and expose everything below.
"Hoop skirts complicated life," she admitted with a chuckle. "Getting around each other took some doing as did visiting the buffet table. Squishing into an outhouse gracefully was out of the question and dancing in a man's arms wasn't so easy either."
Respectable ladies seldom ventured outdoors without bonnets and gloves to shield their lily-white skin from the sun. Any trace of a tan was removed with lemon juice or dangerous chemicals like mercury and white lead.
Meiring admitted it was fun to dress in old clothes but she was happy to revert to modern fashion.
"You would really have to get up early in order to get to school on time," she added. "I cannot imagine running or working in all this."
Boys also faced clothing tribulations, with long pants and long-sleeved shirts worn even on the hottest summer day, Rounds said. Belts weren't available so braces or suspenders were used to keep britches in place.
Sturdy brogans protected the feet and a kepi hat with a flat top and rounded visor shaded the eyes, she said. A vest, jacket and tie would have been added for Sundays or special occasions.
"Long johns were a necessity for cold winter days in the 1860s," Rounds said. "There were no buttons; just straight pins to keep them closed."
Mothers removed the pins and stitched most of the openings shut to conserve body heat when temperatures plummeted, she explained. Boys and their long underwear got a bath on Saturday night whether they needed it or not, Rounds added.
"Boys wore dresses like the girls until the age of 5," she said. "Nobody really cared before that time and it was easier to get to the nappies or diapers of the younger ones."
Long skirts also benefitted busy mothers, she said, adding a hem intentionally placed under a table leg prevented the youngster from crawling away, Rounds noted.
Babies in the 1860s seldom wore shoes until they walked; parents at that time considered footgear a waste of leather, she said.
Rounds termed toys of the era - homemade rocking horses, bilbo stick games and "phenakistoscopes," handmade animation wheels - "ridiculously simple and crazily entertaining."
Local librarian Becky Prenger said Wednesday's presentation was offered in connection with Auglaize County Public Library's continuing salute to Abraham Lincoln and the Civil War era.