Thursday, September 19th, 2013
Parkway grad releases new album after close call
By William Kincaid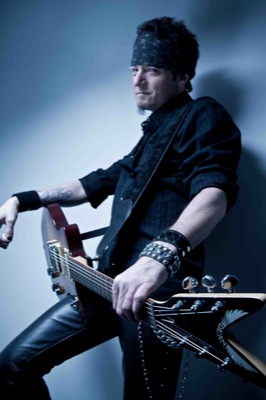 Parkway alumnus Don Saint-Thomas nearly lost a finger after he was bit by a spider early last year, a close-call that led the multi-instrumentalist to do some serious thinking while bedridden in the hospital for five days.
"Luckily he (the doctor) saved it ... he cut my finger open right there in the hospital bed, no anesthetic or nothing, he sliced it open; I said, 'Doc I'm a musician, losing my finger is not an option,'" Saint-Thomas, 45, told the newspaper.
Saint-Thomas realized it was now or never: He had to assemble the songs he'd been working on since 2005 into an album.
"Seize the moment; do it," he said. "Live and do it."
Saint-Thomas, who fronted multiple bands after graduating from Parkway High School in 1986, including Simon Bar Sinister, did just that, releasing "Never Say Never" in December 2012.
The album is a marvelous sounding hard-rock throwback of sorts, recalling the driving, guitar-solo drenched work of AC/DC, Ozzy Osbourne and KISS, and featuring performances by industry veterans such as Bruce Kulick of Grand Funk Railroad, for whom Saint-Thomas serves as a guitar technician as part of his full-time gig with Jonas Productions.
"There's phenomenal guitar playing on that (album)," he said.
Saint-Thomas wrote, recorded and produced "Never Say Never" in his home studio in Indianapolis, where he lives with his wife, Michelle, and son, Ty.
"I made my studio at home for a fraction of what it costs to go to L.A. or some big studio," he said. "When I get an idea, I just get up off my chair and make it happen."
After he became burned-out from the music scene - Simon Bar Sinister had derailed just as it began to take off, due to what Saint-Thomas called the pitfalls of the road - he got a job with Jonas Production, packing, transporting and setting up concert gear for the likes of Ray Charles, Three Dog Night and Grand Funk Railroad.
"For me, it was good to take a break," he said, noting it was the time his son was born.
After a while, Saint-Thomas' love of music, an obsession he says he can't turn off, took over.
He started tinkering with riffs and jamming with friends, eventually coming up with around 25 tracks.
"I whittled it down (to 13 tracks)," he said. "I had as much fun creating that CD as all my years of touring, but a different kind of rewarding."
Many of the lyrics on "Never Say Never," come from painful places - the spider bite, his father's near-death experience and a friend dying from pancreatic cancer.
"I was somewhere on the road ... in my hotel room for the night and it was raining and it had been raining, and I just learned the news. I was really down and depressed and the words 'why does it always have to rain' (hit me), and I got out of bed that night and I wrote every word of that song," Saint-Thomas said about a ballad on the album. "And I already had the music and melody line."
Saint-Thomas, a long-time vocalist, pianist and drummer, plays guitar on the album, an instrument he just picked up a few years ago after receiving an ESP Eclipse as a Christmas gift from Kulick.
"Never Say Never" can be purchased on iTunes, cdbaby and other outlets. For more information, visit www.donsaintthomas.com.
Saint-Thomas hopes to get an opportunity to play in Mercer County.
Born in the former Otis Hospital in Celina in 1968 and raised in Chattanooga, Saint-Thomas came home last weekend to visit his parents, Carolyn J. Hamrick and Thomas Baker, and friends and to take his son fishing.
"I was lucky to be adopted into a supportive, loving family," he said, adding he was adopted when he was a day-and-half old.
He started playing piano when he was 3 before moving on to drums in middle school, all while being fed hefty doses of country western and old-school country - country superstar Glenn Campbell, who once picked tomatoes in Willshire, is a family friend.
"Destroyer," an album by KISS that Saint-Thomas acquired from the former J.C. Penney in Celina when he was 8, proved pivotal in his formative years.
"My pop took me to see them in '79. I was in fifth grade," he said. "I was at the Fort Wayne Memorial Coliseum. It was KISS and Judas Priest - Judas Priest on the British Steel Tour. My life changed that day. That was what I knew I wanted to do ... a huge life-changing experience."
Saint-Thomas also cites former Parkway music instructor Richard Sherrick as a major influence, a teacher who brought the fledgling musician to drum clinics.
"I didn't realize maybe at the time, but looking back, he gave a lot of encouragement, made you believe in yourself, that you can do it, that it's actually something you can work for," he said.
He also talked about his days on the road, having to be on top of his game whether playing for a handful of people, some shouting out requests for Lynyrd Skynyrd, or for thousands of people, like when Simon Bar Sinister opened up for Queensryche at what is now called Klipsch Music Center in Indianapolis. The group also opened for Danish metal kings Mercyful Fate on a 38-date, six-week tour in the late '90s.
"It's an adrenaline that takes over," he said. "When you're doing that many dates (250) a year, there comes a point to where you find a happy medium," he said. "Your voice, it's not peak, but it's not trashed - you find a happy medium where you try to stay in a certain range to where you can just perform consistently every night. Some nights are tougher than others."
Simon Bar Sinister could usually win over crowds during their 45-minute opening sets for bigger bands, he said.
"There's a trick a person has to learn to be able to appeal to those people, to connect with; it's not as easy to connect with 10 as it is a thousand. It sounds like it would be the opposite way around, but it's not. It's easy to get a thousand people on their feet to cheer."