Saturday, October 5th, 2013
Trees disappearing as area farms continue to branch out
By Shelley Grieshop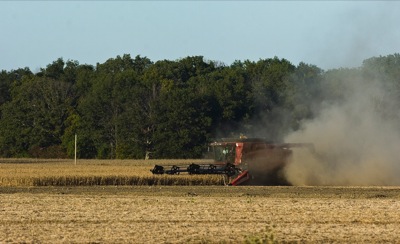 GRAND LAKE AREA - More than two-thirds of forests dotting the local countryside have vanished in the last 70 years.
Cornstalks, soybean plants and grazing pastures now exist on thousands of farmland acres that once were home to towering maples, oaks and other trees.
Experts say the conversion is mainly due to years of rising crop prices and a shortage of farmland.
"There's not much land available in your area for farmers who want to expand their land base," said John Mueller, an Ohio Department of Natural Resources service forester. "Farmers like to keep their land contiguous."
Mueller, who assists landowners in northwest Ohio with forest issues, said he believes Mercer County has the highest farmland prices in the state due to the lack of available acreage and an ever-growing livestock population.
State data shows rural Mercer County had 27,609 acres of woodlands in 1940 but only 11,897 in 2007 - the most recent numbers available. Auglaize County's figures fell from 25,339 acres to 11,072 during the same time period.
Brian Siefring of rural Coldwater cringes when he sees local woods cleared. He wonders why the government doles out dollars to farmers for environmental causes like cleaning Grand Lake, but looks the other way when forests disappear.
"I think we must question how federal programs spend millions of taxpayer dollars installing manure storage buildings, manure lagoons, cover crops, etc., on private lands to help protect the environment in Mercer County, and not address the clearing of woods, fence rows and creek banks that provide wind protection and wildlife habitat," he said. "We need some balance in how our taxpayer money is spent; there seems to be little now."
Rich Widmann of the U.S. Forest Service's inventory and analysis division, said there is tremendous environmental value in woodlots.
"Along streams they're very important in cutting down the amount of sediment and nutrients getting into the water," he said. "When you have a big agricultural area, trees can have a huge effect on water quality."
The loss of woodlands also accelerates erosion, devastates native wildlife species and leaves migratory birds with fewer places to stop, he added.
Widmann said government programs that pay landowners to create riparion buffers - vegetated areas near waterways - are helping.
"The buffers eventually foster tree growth," he explained.
Ninety-nine percent of forest land in Mercer and Auglaize counties is privately owned and the fate of those acres lies solely with deed holders, according to Widmann.
"Private forest landowners can do what they want. There are very few regulations," he said.
Local farmer Jerry Unrast of rural St. Henry cleared 10 acres of woods last year and plans to remove more trees in the future so he can plant crops.
"I'm a dairy farmer, and I was raised on a dairy farm. I need feed for my cows," he said.
Unrast said he believes there's a "good balance" between the acres of woods and farm fields in the area. He's never received negative feedback when clearing a woods, he added.
The local economy is fueled by farmers whose crops and livestock play a vital role in its growth. Mercer County consistently ranks number one in agriculture receipts among all 88 counties in Ohio.
The "harvesting" or thinning of woods has a positive side, according to ODNR. The removal of unhealthy trees can reduce attacks from insects and disease and susceptibility to natural disturbances such as wildfire and ice storms, the state agency notes on its website.
"(Harvesting) enhances the amount of light by opening up the canopy (and) increasing the amount of nutrients that are available to plants," the site states.
Some local woodland owners adopt forest management plans by ODNR experts or private foresters to maximize the value of selective logging, control invasive species and create wildlife habitat, state officials said.
Landowners who receive financial benefits from USDA must request a wetland determination before cutting down forests or making other changes for the use of their land, Mueller said.
"If they don't, they run the risk of losing money from the government" such as pay-outs from crop insurance, he said.
Woodlands determined to be wetlands can still be converted for other uses with assistance from the Natural Resources Conservation Service, Mueller said.
Landowners who do not receive USDA benefits still must comply with various federal and state laws before converting woodlands, NRCS rules state.
Some forests in the Grand Lake area are harvested for the sale of wood. Leroy Rutschilling, who owned a sawmill in St. Henry from 1951 to 1998, said he'd like to see more wooded lots in the area. He believes the government may eventually get involved in the issue.
He acknowledged most farmers purge their forests to expand farmland.
"Trees just don't grow as fast as crops," said Rutschilling, 80, now a local forest appraiser.
The forest industry in Ohio is booming, said John Dorka, executive director of the Ohio Forestry Association. In contrast to the local area, Ohio's overall forests are getting larger and older, he said.
"You're in an area that is totally different than the southeastern portion of Ohio, which is about 80 percent forest," Dorka said.
Local woodlands aren't very enticing to the forest industry, state Rep. Jim Buchy, R-Greenville, said.
"Ohio's forestry industry is concentrated on land that is better suited for forestry than flat land like we have in western Ohio," he said. "The tillable nature of our ground in this part of the state makes cash crops like corn and soybeans the most economical crop in our fields." 
Buchy said local farmers are "the best stewards" of their property and should be left to decide its purpose.
"Just like foresters in eastern Ohio, (farmers) will make the best economical decision for the use of their land," he said.

Tree facts:
• Mercer and Auglaize counties reported a total of nearly 53,000 acres of woodlands in 1940. Today the combined total is less than 23,000 acres.
• An estimated 87 percent of Ohio's forests are privately owned; the number climbs to 99 percent in the Grand Lake area.
• Approximately 31 percent of Ohio is forested; 8.1 million acres are in tree cover.
• About 1.2 percent of trees in northwest Ohio die annually from insects, disease, fire, wind or suppression from other trees.
• There are more than 180 sawmills across Ohio.
• Ohio legislators recently passed a bill that designated the first week of October as "Ohio Forest Products Awareness Week."