Saturday, October 5th, 2013
Celina finds groove in second half
Bulldogs rally after slow opening half
By Ryan Hines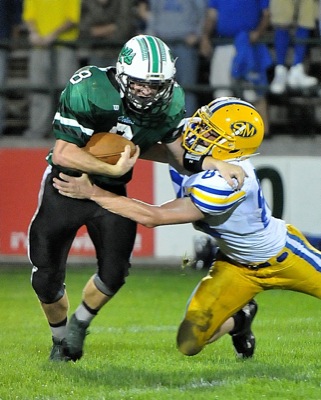 CELINA - After a fairly stagnant first half of play, Celina's offense turned on the jets in the second half and scored five touchdowns en route to a 49-23 victory over rival St. Marys on Friday night at Celina Stadium.
St. Marys (0-6, 0-5 Western Buckeye League) took a 17-14 lead at the 7:31 mark of the third quarter after driving 68 yards in 10 plays on its first drive of the second half with Trent Wale rushing for a nine-yard touchdown.
Celina (5-1, 4-1 WBL) didn't take long to answer as Bulldogs' quarterback Caleb Hoyng rushed for a 29-yard gain and then hit Stefan Chittum in stride for a 60-yard touchdown on the very next play. Chittum broke a tackle at the 20-yard line, got a great block from Mason Ross and raced up the sideline to give Celina a 21-17 advantage.
Wale then lost his third fumble of the night on St. Marys' next series and Celina took advantage. Hoyng hooked up twice with Braelen Bader for a total of 43 yards and Bader then rushed for an 11-yard TD to give the Bulldogs a 28-17 lead.
"I tell our kids that the three keys to us is to outhit our opponents, have 10 or less missed tackles and take care of the football," said St. Marys head coach Greg Phillips. "We didn't do that tonight. We missed too many tackles and we had four turnovers (three fumbles and an interception), you can't win games like that."
Celina then tacked on another score by taking advantage of great field position after a poor St. Marys punt. St. Marys' Quinn Zaerr shanked a 16-yard punt from his own seven-yard line to give Celina possession at the Roughriders' 23-yard line. Louden Limon rushed for 11 yards and Bader added an eight-yard run before Limon powered his way up the middle for a four-yard score that put the Bulldogs in control 35-17 on the first play of the fourth quarter.
St. Marys then closed the gap to 35-23 when a 10-play drive resulted in a six-yard TD run by Isaac Fitzgerald.
St. Marys tried to recover an on-side kick but failed and Celina tacked on to its lead. Hoyng ran for 34 yards and Limon added 12 more before he crashed into the end zone on a three-yard run for a 42-23 Celina lead.
Celina's Sean Kirk then intercepted a Fitzgerald pass on the first play of St. Marys' ensuing possession. Celina quickly converted the turnover into points as Hoyng hit Limon for a 27-yard touchdown pass on the first play to give the Bulldogs a 49-23 lead.
Celina scored on five of its seven possessions of the second half after gaining just 144 yards in the first two quarters of play.
"I think we came into the game complacent. It sounds like a broken record, but we started the game slow and we were able to pick it up in the second half," said Celina's offensive guard Tanner Shindeldecker.
"We just needed to start executing and make good decisions. There was nothing wrong with the play calling in the first half, it was just the execution of the plays that were called. We did a better job of that in the second half," said Celina's interim head coach Trent Temple.
Hoyng completed 11-of-17 passes for 206 yards and three touchdowns, including a double-reverse 54-yard bomb to Bader for a score on the first offensive play of the game in the opening quarter. Hoyng handed the ball off to Bader, who handed it off to Kirk with Kirk pitching the ball back to Hoyng. Bader was uncovered down the field for the score.
Limon also had a big day for the Bulldogs with 13 rushes for 84 yards and three scores to go along with his TD reception.
"The coaches came up to the seniors at halftime and basically said that we had to get fired up and get the offense going. The offensive line got jacked up and we played much better during the second half," said Limon. "The offensive line was dominating up front and scoring four touchdowns felt good."
Celina amassed 425 yards of total offense but struggled to slow down St. Marys' rushing attack. The Roughriders ran for 317 yards on 59 carries and added another 91 yards through the air. Wale rushed for 163 yards on 24 carries but lost three fumbles.
"In my opinion, we stopped ourselves. We went up and down the field and if we don't put the ball on the ground, they weren't stopping us," said Phillips. "Our offensive line played well and consistently. We were calling whatever we wanted to call but you can't turn the ball over like we did. We had them on the ropes and they turned it up a notch."
Celina also broke last year's mark for most points scored against St. Marys in the annual Grand Lake rivalry matchup. After crushing St. Marys 47-7 a year ago, the Bulldogs topped last year's offensive output by two points.
Although happy with the win, Temple was disappointed in the play of the Bulldogs' defense.
"A win is a win and we'll take it, but we didn't play very well. We didn't play very well defensively in either half tonight. We are still searching for answers on that side of the ball," said Temple. "We're not playing up to our potential right now and that falls on me. We have to find someone to step up. They smacked us in the mouth and we weren't ready for that."
Celina hits the road next Friday to play winless Van Wert at Eggress Stadium while St. Marys hosts Defiance.