Saturday, October 19th, 2013
County officials getting ready for election
By William Kincaid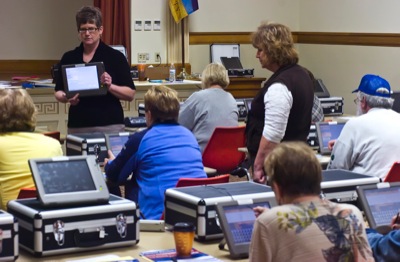 CELINA - With the general election just a few weeks off, county officials are busy at the courthouse assisting early voters and training poll workers for a new pilot study.
Election board directors Laura Bruns and Deb Sneddon led roughly three-fourths of this season's 144 poll workers through procedural instruction this week.
A pilot test on Election Day called Any Line Any Time will take place at the Rockford Community Building, which houses polling sites for Rockford and the townships of Dublin, Hopewell, Liberty and Blackcreek.
Instead of hosting different sign-in stations for each of the precincts, all voters will be directed to a single table.
Bruns hopes the new arrangement speeds up and eases the voting process.
"Instead of voters coming in and having to know their specific precinct and which table they're suppose to go to ... they can go to the next available (poll worker)," deputy director Sneddon said Friday after conducting a training session.
"It evens out all the precincts," Bruns added. "We have a bunch of precincts that have a thousand voters, and then we have other precincts that have 500 voters ... there shouldn't be a line at one, and nobody at another."
Officials will link and configure the electronic poll books so they contain voter information of all precincts housed at the Rockford site, not just one.
"We still have to have four poll workers per precinct so there is going to be an ample number of poll workers there to do the jobs that have to be done," Bruns said.
Poll workers are as excited about the test as the directors, Bruns said, noting that some complained about the uneven voting lines at the last election.
"If it goes well, we do want to implement it countywide (next year)," Bruns said of the system.
Also, this is the second election that board staff will conduct without a net - no vendor support will be on site to assist with any issues and problems, a service that previously cost the county $15,000 each year.
"We did fine in May," Bruns said. "If we have something come up that we don't know how to deal with, we have phone support we can call."
The two women said they've learned how to address most of the common election day problems with experience.
"There hasn't been anything come up that we haven't been able to handle," Sneddon said.
They also have facilitated early voting that started two weeks ago; about 200 ballots have been cast in-person or by mail.
Ballot applications were not automatically mailed to Ohio voters, by order of the secretary of state.
To vote early, residents must request an absentee ballot application by mail, phone or in-person at the board of elections office. Absentee ballots can be sent to homes or voters can cast a ballot in person at the office.
"If you want to vote (by) mail, we have to have your application in the mail no later than (Nov. 2)," Bruns said.
Absentee ballots must be postmarked by Nov. 4 or returned in-person to the board of election by 7:30 p.m. Nov. 5.
Early, in-person voting at the courthouse continues during normal business hours - 8:30 to 5 p.m. Mondays; 8:30 to 4 p.m. Tuesdays through Fridays; and on Nov. 1, the last day, from 8:30 to 6 p.m.
Sneddon anticipates voter turnout of 50 percent or higher in Mercer County.
"People think that these off-year elections are't terribly important but you're electing your officials," Bruns said. "I think they're very important ... your (determining your) school board, your township trustees, your issues."
"You're deciding whether or not you're going to pay more taxes," Sneddon added.