Saturday, October 19th, 2013
Flyers create sonic boom
Marion Local blows out Coldwater to grab first place in the MAC
By Gary R. Rasberry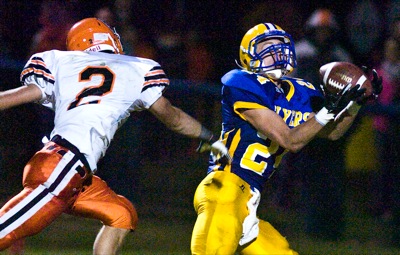 MARIA STEIN - What was supposed to be a defensive battle between two of the top teams in the state turned out to be an offensive rout by the Marion Local Flyers.
Marion Local, the top-ranked team in Division VII, scored 34 straight points on Coldwater, the second-ranked team in Division V, with some big plays and now stands high on top of the mountain in the Midwest Athletic Conference after a 47-14 triumph at Booster Stadium in Maria Stein.
The 33-point margin of victory is the most by the Flyers (8-0, 6-0 MAC) in the 61 games of the series against the Cavaliers. The 47 points is also the most Marion Local has ever had against Coldwater (6-2, 5-1 MAC), topping the 41 points in the 1988 matchup.
"I'm proud of the guys," said Flyers coach Tim Goodwin. "I told the guys in the (postgame) huddle when I dreamed of being a football coach, that's what I dreamt my team playing like. It doesn't always happen but they just playing hard."
"I was telling someone yesterday, big plays and turnovers are going to determine it," said Coldwater coach Chip Otten, whose team had three turnovers in the game. "(Marion Local) certainly made more big plays and we had some turnovers. ... They just outplayed us in every way you can imagine."
It figured to be a defensive battle between the two Mercer County powerhouses as Marion Local was allowing just over four points per game and Coldwater was allowing 10 ppg. However, there was a quick strike for the Flyers' offense to start the game. After Coldwater went three-and-out on its first offensive series, the Flyers began with a healthy dose of Jacy Goettemoeller, who carried the ball six of of the nine plays and hit paydirt from a yard away to make it 6-0 after the blocked PAT.
Coldwater struck back, with Brody Hoying using a 68-yard run to put the Cavaliers at the Flyers' 7-yard line. After getting sacked for a 12-yard loss, Hoying hit Adam Klosterman for a 19-yard TD to put the Cavaliers on top 7-6.
At that point, the offense started heating up for the Flyers and quarterback Dustin (Doc) Rethman.
The series after the Cavs' score, Rethman hit Troy Homan for several short gains before finding Hunter Wilker for a 44-yard score that put the Flyers up 12-7.
The Cavaliers were pinned deep in their own territory when Hoying was picked off by the Flyers' Brandon Prenger, who returned the interception to Coldwater's 4-yard line. Rethman then hit Ryan Bruns for the score on the first play of the drive.
"Coach said the main thing was to get off to a good start," said Rethman. "Coldwater is a good team and you don't want to get behind with their big-play ability. The big plays were key for us."
Another Cavaliers' drive ended with a punt and Wilker's strong return gave the Flyers the ball at Coldwater's 21-yard line. After Coldwater was called for offsides, Goettemoeller ran for a 16-yard TD to give Marion Local a 26-7 lead.
Coldwater fumbled the ball deep in Marion Local territory on its next drive and an 85-yard pass from Rethman to Wilker for a score gave the Flyers a 33-7 advantage at halftime.
"We had to fake them out to get the big plays," said Wilker. "We knew Brody Hoying (as a defensive back) would be flying down on the run. We faked it (the run) and hit it deep. I knew I would be wide open."
"We worked on that and thought we could get behind their secondary with some play-action passes because they're aggressive back there like we are," said Goodwin.
Rethman completed seven straight passes during the hot streak, three going for touchdowns.
Marion Local's then worked hard to shut down the Cavaliers' offense. Hoying was sacked five times in the game and was unable to get the passing game going, completing just nine of his 21 passes for 71 yards. Hoying did carry the ball 17 times for 127 yards but did not score a touchdown.
"Brody made some plays but had some rough moments," said Otten. "He probably didn't get rid of the ball quick enough on some of the passes."
"Brody is a great player and hit some big plays on us, especially in the first quarter," said Goodwin. "We told the kids all week he will do those things but just keep playing."
Rethman was efficient and finished the game 8-of-14 through the air for 213 yards with four of those passes going for touchdowns. Wilker snagged three passes for 136 yards with Homan making four catches for 73 yards with a third-quarter touchdown.
"My line was giving me time, allowing me to set up," said Rethman. "Hunter was making big catches. With his speed, I just throw it out there and he runs under it."
"We knew we had to do some things we haven't shown in the past," said Goodwin. "We've been working on stuff for a long time, then Adam (Bertke) goes down and we weren't sure what Dustin could do. He was spot-on on deep balls tonight. He's a great athlete."
Otten tipped his cap to Rethman.
"Man, he threw great," said Otten. "It was a windy night and he was putting the long passes on the money. That wins games if you can make big plays with the run and pass. That's a good team. Well-coached and they play hard."
Goettemoeller, limited last week after tweaking his ankle in the St. John's game two weeks ago, carried the ball 24 times for 106 yards and scored three touchdowns.
Marion Local heads to Shelby County next Friday to face Anna while Coldwater will look to rebound, hosting Parkway at Cavalier Stadium.