Friday, December 13th, 2013
Unbeaten Minster picks up road victory over St. Henry
By Robb Hemmelgarn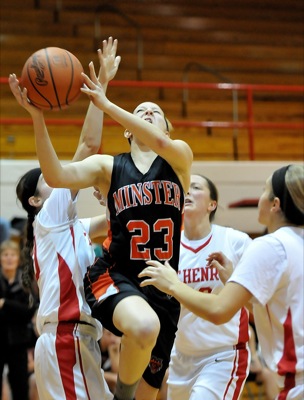 ST. HENRY - The final thing that Minster girls basketball head coach Nann Stechschulte uttered to her squad before they filtered off of the bus in St. Henry on Thursday night was a brief warning about the focus they needed playing in their first road Midwest Athletic Conference game of the season.
Although their focus was shaky at times, Minster escaped St. Henry Middle School with a 35-31 victory.
"Tonight we played like we practiced all week and we didn't come ready to play," said Stechschulte. "We weren't focused. St. Henry came to play and stuck around until the very end. That is definitely something we need to improve upon."
The Wildcats (5-0) seemed determined to coast to an easy victory in the opening minutes when a three-pointer by Claire Fischer and a jumper from Logan Arnold put the Orange and Black in front, 5-0.
Stechschulte's squad led by seven points on two separate occasions in the opening eight minutes of play, but a pair of free throws from St. Henry senior Ally Mikesell trimmed the Redskins' deficit to 13-8 at the conclusion of the opening period.
"We knew it would be a battle from the beginning tonight, but the girls had a pretty solid week of practice and we were ready," said St. Henry head coach Kurt Huelsman. "We had some turnovers in the opening minutes but managed to stay with them, so I didn't feel we needed to make any adjustments at that point. We just needed to take care of the ball and have good shot selection."
A bucket from senior guard Kayla Richard to open the second quarter pushed the Wildcats in front 15-8, but the Redskins scored the next four points as a three-pointer by sophomore Ellie Stammen pulled her team to within three.
The two teams traded punches for much of the rest of the period until another bomb from Stammen tied the score at 18-18 with a little more than a minute before halftime. Fischer hit a bucket to give her team a two-point lead but St. Henry's Olivia Stahl connected on a three-pointer to give the Redskins a 21-20 lead at halftime.
"We intended to take the last shot of the half, but then turned the ball over and allowed St. Henry to set up offensively," said Stechschulte. "They had enough time to work in the final shot for the lead. I pointed that out in the locker room and emphasized how important it is to not let teams gain momentum on their home floor."
The third period was a struggle on offense for both teams but the Wildcats got the upper hand at the end of the quarter when Kathy Prenger hit a bunny shot for a 26-25 Minster lead.
"I started four seniors in the second half and made it clear that they needed to take charge," said Stechschulte. "I told them they needed to take pride in their defense and make it their game to win or lose and thankfully they responded well."
The Redskins stormed back at the onset of the final period with four straight points, courtesy of a two-pointer from Alyssa Mescher and a pair of free throws by Stahl. Trailing by their largest deficit of the night at 29-26, Minster roared back with five straight points as a pair of free throws by Arnold gave the Wildcats a 31-29 advantage.
St. Henry's Taylor Koesters knotted the score at 31-31 with a little more than a minute to play, but a bucket underneath by Minster's Alicia Arling gave her team the lead for good. Richard hit a pair of free throws down the stretch to seal the win for the Wildcats.
"I was very happy with how the girls battled tonight, despite the outcome," said Huelsman. "We had our opportunities in the final minutes, but couldn't close things out. Minster did a good job with their free throws in the end and we came up a little short."
The Wildcats were paced offensively by Arnold with nine points while Stammen led the Redskins with 10 points.
Minster is idle until next Thursday when it kicks off a brutal two-game stretch against Versailles followed by a battle on Saturday against Fort Loramie, the defending Division IV state champions. St. Henry (2-3, 0-2 MAC) is back in action at home Saturday afternoon, hosting Lehman.