Friday, January 10th, 2014
Students learn online at home during snow days
Fort Recovery district uses E-Days instead of make-up days
By William Kincaid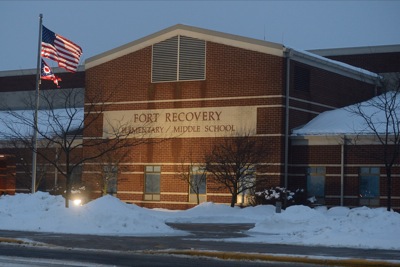 FORT RECOVERY - The brick-and-mortar school was closed three days this week due to snow but students continued learning via online instruction.
All five state-allotted calamity days were used by Fort Recovery schools prior to Monday. Instead of extending the school calendar by three days, officials initiated E-Days on Monday, Tuesday and Wednesday this week. Superintendent Shelly Vaughn said each E-Day is considered by the state to be a full day of instruction.
Because students already missed so many days of school this semester, Vaughn said it made sense to use the online tool.
E-Days are an Ohio Department of Education-approved online calamity day plan in which students access class assignments on the E-Day Portal on the school's website. Students have two weeks to complete the work.
Fort Recovery was the only local school - and one of 86 statewide - that submitted an online calamity day plan to ODE by July 31 that was approved. Districts are limited to three E-Days per school year.
All district teachers submitted E-Day plans to Vaughn by Nov. 1. Knowing that inclement weather was expected, teachers last week adjusted the plans according to the content they were currently teaching, Vaughn said.
Teachers were on call during the three bad weather days to respond to emails from students and parents about the assignments.
Response from parents regarding the new system - on The Daily Standard Facebook page and comments made directly to the newspaper - was mixed. Some claimed the experience was positive and they enjoyed helping their children. Others liked discovering what their children are learning in school and added they were glad to see their youngsters' minds active on a snow day.
"Both of my daughters were able to finish all the work on their days off," Stacy Laux said. "It was reassuring knowing even if they couldn't finish, they would have two weeks to complete and turn in the work. The teachers have said numerous times they would be available both on the snow days and when the kids get back to answer any questions."
Other parents, especially those with multiple children in school, expressed frustration and anger, pointing out the problem of having only one computer, assignments that were time-consuming and the need for much paper and printer ink.
Not all parents are able to stay at home with their kids and some felt they were being forced to take on the duties of teachers.
Some parents questioned the quality of the education their children received through the E-Day lessons, wondering if making the days up at the end of the school year would have been better for the students.
Vaughn said like anything the district attempts for the first time, school officials will reflect on the matter and learn how to make it work better next time. They intend to survey students and parents about the process, she said.
"We already know of two areas we would specifically address for next time: improved communication to students and parents about how the lessons could be done virtually paperless or copies of needed papers could be provided in advance, (and) more detailed plans about modifications necessary for students on IEPs (Individualized Education Plans) to successfully complete E-Day work," Vaughn said.
She also commented on parents assisting their children with the work. She said teachers are vital to the learning process, whether that be traditional or blended learning, and it's important for students to contact teachers via email if they have specific questions about the assignment.
Vaughn hopes that after parents and students accessed the assignments they found it was an opportunity to practice previously taught skills, not new subject matter.
"All of the lessons were designed to be a review or enrichment of already learned material," Vaughn said.
She stands by the quality of the E-Day activities.
"I reviewed all of the lessons last week and found them to be very educationally sound," she said.
And so did elementary principal Tracy Hein-Evers.
"As a full time administrator and parent of three children in the school system, I believe the E-Days are a creative way for students to utilize technology and work with their teachers in a different format," she said. "As a principal, I looked at the E-Days the teachers set up in grades K-3 and found them to be a very educationally sound way to make up missed days of school."
Vaughn took the Thursday morning grumblings of a few high school students - who complained about the time it took to complete the E-Day assignments - as a compliment. The lessons are designed as a day of instruction, she said.
Vaughn doesn't believe tacking on more days to the school year calendar - after achievement tests are taken - is ideal since kids aren't focused.
Kathy Gonzalez, the mother of a sixth-grader, eighth-grader and senior at Fort Recovery, told the newspaper the E-Day experience was good.
"My boys definitely had to do some thinking and learning over the past three days," she said. "As a parent, I got a quick look at what they are learning and working on in school. I got to spend some quality time with them."
Gonzalez, who has a bachelor's degree in elementary education and was home with her sons during the three days, denied her children access to video games and kid space until their E-Day work was completed.
Having multiple devices to connect to the school website was very helpful, she said.
"It is necessary to have enough access to technology to do this at home ... and ink for the printer!" she said. "If the electricity was out I would hope they would not choose an E-Day but rather a make up day."