Friday, January 10th, 2014
Panthers edge Indians for first conference victory since 2010
By Ryan Hines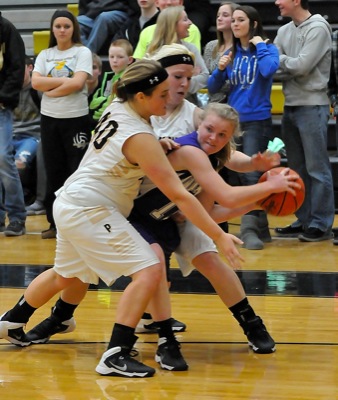 ROCKFORD - Lynn Hughes couldn't remember the last time that Parkway's girls basketball team won a game in the Midwest Athletic Conference; however, it's safe to assume that Thursday's win over Fort Recovery won't soon be forgotten.
Hughes' Panthers shot 53 percent from the field and held off a late Indians' rally en route to a 58-54 win over Fort Recovery to snap a 32-game losing streak in the MAC.
"It's a big win for us and the biggest reason why is it has been a long time since we have won an MAC game. I'm not sure how long it has been but it has been a long time," said Hughes.
It's Parkway's first win in MAC play since a triumph over St. Henry on Jan. 28, 2010.
After the teams played to a 16-16 tie in the first quarter, Parkway took control in the second quarter. The Panthers were leading 21-20 before Sierra Fent and Raegan Bransteter combined to score 10 points and ignite a 10-2 run over the next two minutes of play.
The Panthers (3-6, 1-2 MAC) held a 45-37 lead entering the fourth quarter before Bransteter, Fent and Cami Hellwarth each scored to give Parkway its largest lead of the night at 51-37 with just 5:11 remaining in the game. Fent, Hellwarth and Bransteter were the major offensive contributors for the Panthers, combining for all but one of Parkway's points to that point in the game.
"I think that we played really well for the first three quarters. We came out with intensity and played with a confidence that we haven't always played with this season. Very proud of my girls," said Hughes.
Fort Recovery (6-4, 0-3 MAC) then turned up the defensive pressure and creeped back into the game. Hellwarth, Parkway's top ball handler, fouled out with 3:18 left to play and turnovers plagued the Panthers down the stretch.
"She is our ball handler in tight situations and we had some turnovers down the stretch but we did enough to get the job done," said Hughes. "We aren't usually in the situation where we are trying to slow it down and protect a lead. We struggled with that a little bit."
Caley Schoenherr scored four points off Parkway turnovers to key a 9-2 run that pulled the Indians to within seven points at 53-46 with 2:55 on the clock.
"We changed some things defensively and added some more speed on the floor and got after it a little more," said Fort Recovery head coach Doug Bihn.
Sarah Gehron momentarily stopped Fort Recovery's run with a shot off the glass for two, before the Indians then scored the next six points and trimmed Parkway's lead to 55-52 with under a minute to play in the game.
Parkway had turned the ball over on its last three possessions before Kayle Heckler hit the shot of the game. The Panthers advanced the ball through the Fort Recovery fullcourt pressure and Heckler found herself wide open on the wing with 45 seconds remaining in the game. Heckler, who was 0-for-4 from the field in the game up to that point, calmly knocked down a three-pointer that put the Panthers on top 58-52.
"That shot was huge. We were trying to take time off the clock. She was wide open and hit a big shot. The last possession she turned the ball over and it was a great way to redeem herself," said Hughes.
Fort Recovery's Kara Jutte hit a layup with 39 seconds on the clock but neither team scored again.
Parkway shot 27-of-51 from the field and used an up-tempo offense to continually get good looks at the basket.
"We are at our best when we get out and push the ball up the floor to get fastbreak points. We had 31 fastbreak points and that was the key to the game," said Hughes.
Hellwarth led all scorers for Parkway with 19 points while Fent and Bransteter contributed 18 and 13 points, respectively. The trio combined for 50 of Parkway's 58 points.
Fort Recovery was just 18-of-58 from the field (31 percent) and 0-for-10 from three-point range.
"We can't shoot the ball. We shot 30 percent and they shot over 50 percent...It's tough to win a game that way," said Bihn. "We didn't play very well tonight. We didn't play with any hustle and it mattered more to them than it did to us. They played harder than us and wanted it more than we did."
The Indians clearly struggled with leading scorer Tori Lennartz trying to fight through an ankle injury. Sierra Pugh led the Indians with 15 points and Jutte added 13 points while Lennartz had eight.
Parkway is back in action again on Tuesday with a road trip to Spencerville while Fort Recovery is off until next Thursday's road trip against MAC-leading Versailles.