Friday, February 7th, 2014
Local strobe traffic lights gone in a flash
State law prompts Celina, St. Marys to make change
By Amy Kronenberger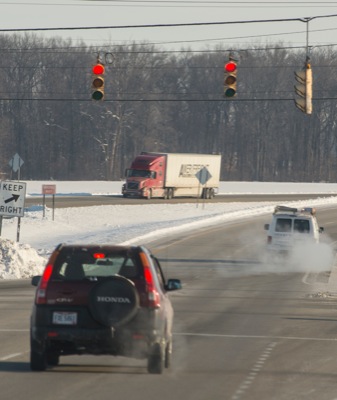 ST. MARYS - The flashing strobe lights in traffic signals in St. Marys and Celina have been removed to comply with Ohio law.
St. Marys Law Director Kraig Noble on Wednesday recommended the immediate removal of three strobe lights in the city limits after research into their legality was completed. In a letter to safety service director Greg Foxhoven and traffic committee members Robin Willoughby, John Bubp and Bob Fitzgerald, Noble wrote that his office found that strobe lights are prohibited in the Ohio Manual of Uniform Traffic Control Devices in the Ohio Revised Code. The lights in both cities were installed as an added safety measure.
The law states "strobes shall not be used within or adjacent to any signal indication." The Ohio Revised Code requires all traffic control devices to be in conformance with the manual, he wrote.
"While we have found no instances of civil liability imposed because of nonconformance, we have found some court rulings where a person was found not guilty of a charge of violating a traffic control device where the traffic control device was found to be in nonconformance with the manual," he wrote. "Further, we have found a case where the court ordered the city to conform its traffic control devices with the manual."
The three intersections in St. Marys with strobe lights were Greenville Road and Main Street, Spruce Street and McKinley Road and Indiana Avenue and Kishler Street.
Noble also contacted Celina safety service director Tom Hitchcock who also agreed to remove the strobe devices from stoplights at Market Street and state Route 703, and state Route 29 and Havemann Road.
Foxhoven said St. Marys installed the lights in August 2010 after a council member saw them in Celina and thought they would be a great safety feature. Council and traffic committee members considered it and approved their installation at a cost of $485 each.
Removing the strobe fixtures incurred no costs to the city and only required swapping the strobe bulb for the red bulb, Hitchcock and Foxhoven said. In Celina, the strobes were installed at Havemann Road and state Route 29 in July 2008 at a cost of $555 and at state Route 703 and Market Street in November 2009 at a cost of $598.
St. Marys City Engineer Craig Moeller first mentioned the violation Monday with the traffic committee after learning other cities are dealing with possible legal issues concerning the strobe lights that are placed within the red stoplights. Committee members asked Noble to research legislation on the lights before deciding whether to keep or remove them.
Foxhoven said city workers acted immediately on Noble's recommendation. Noble also recommended monitoring the manual for possible future revisions.