Friday, February 7th, 2014
Flyers rally late to defeat Cardinals
By Bruce Monnin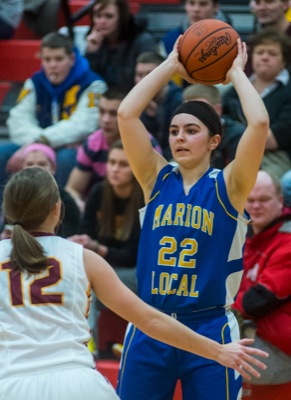 NEW BREMEN - It has been a busy week for the New Bremen Lady Cardinals.
On Monday night they lost to Fort Recovery after four overtime periods and then suffered another defeat on Tuesday at Spencerville.
For the Cardinals' third game in four days, they hosted Marion Local, the state's 10th-ranked team in Division IV.
The Cardinals battled through a physical game and led by four points with four minutes remaining before the Flyers scored nine of the next 10 points on their way to a 38-36 victory.
"It was ugly, with a capital U and a capital G and a capital L and a capital Y. I was thinking during the game that I probably wouldn't have paid six dollars to watch this," admitted Marion Local coach Treva Fortkamp. "It was a struggle. I don't know what the deal was, but I'm just glad we came out on top."
"I just told my team I was very proud of them for the week that they had," stated New Bremen coach Chris Burden. "They are kind of beat up and sore right now, so for us it is going to be a nice weekend to relax and prepare for Lehman on Monday."
Both teams played ferocious defense all night long. The Cardinals concentrated on taking away the Flyers' post players, and they were successful for most of the game.
"We tried to take away their inside game," confirmed Burden. "We hung in there and were able to do the little things that we haven't been doing. It is neat to see our girls starting to grow and play as well as they did tonight."
"You have to give credit to Chris' team," added Fortkamp. "They played hard, and they sagged it in on us. We had open looks from the outside in the first half. We took lots of shots that didn't fall."
A Karli Jones basket with four minutes remaining allowed New Bremen (7-13, 1-7 MAC) to equal its largest lead of the game at 32-28. After two Flyer free throws by Cadence Jacobs, the Marion Local (15-4, 5-3 MAC) inside game came to life as Emily Mescher tied the game with a basket. The Cardinals regained the lead when Jones made one-of-two from the free-throw line, but Marion Local seized control for good when Brooke Winner collected an offensive rebound and put it back up for the go-ahead score.
On the Flyers' next possession, Winner rebounded a missed free throw and scored again to give the Flyers a three-point lead with under a minute remaining in the game. New Bremen was forced to foul after a Marion Local steal and the Flyers connected on free throws that stretched the advantage to five points before the Cardinals' Rosie Westerbeck made a three-pointer at the buzzer.
Jacobs led the Flyers with 12 points, eight of which came in the second half. Winner added 10 points to go with her eight rebounds, while Lexi Wilker scored all seven of her points in the second half.
Westerbeck led New Bremen with 12 points while Debbie Paul contributed nine points and nine boards.
The Flyers' next contest is Tuesday when they travel to Elida while the Cardinals host Lehman on Monday.