Thursday, February 13th, 2014
County loan fund reaps dividends
Mercer among top recipients of state funds for lending
By Shelley Grieshop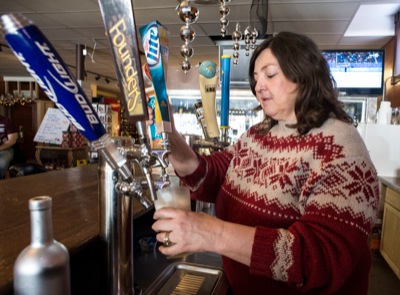 Government red tape nearly discouraged two Coldwater women from pursuing a county loan for the business of their dreams.
In the end, the financial advantage of the revolving loan with its inviting 3 percent interest rate balanced the negative, said April Braun and Sandy Sutter, co-owners of K-9 Clubhouse.
"The interest rate was awesome," Braun said. "It's been nice to see the loan balance fall much quicker."
The mother-daughter duo was approved in 2012 for the $40,000 loan to establish the business in the village's industrial park. Braun said the extra revenue, along with private loans, helped them purchase higher grade equipment for 43 kennels.
They initially were unaware the financial opportunity meant filling out scads of forms and waiting for government approval, which delayed their opening date, she said.
"That was the bad part. There was a lot more paperwork and a lot more steps," Braun said.
Business is good, the owners said.
"That first year was a little rough but we're doing really well now," Braun said, her voice nearly drowned out by the barking dogs at her feet in the daycare area.
Mercer County's revolving loans are lent to qualifying businesses to retain or create jobs. The available dollars - currently totaling $132,000 - are from the state, not the county's coffers. The amount increases as loan debts are repaid with interest.
"It (the payback) helps continue the vitality of the loan program," said Jared Ebbing, director of the county's community development office that oversees the loan process.
The county's active loans will collect nearly $350,000 in payments this year, Ebbing said. Approximately $3 million remains in outstanding debt.
The county recently requested an additional $500,000 from the state to help an unidentified area business expand, Ebbing said. The award is pending.
Since 1986, local officials have approved 130 revolving loans totaling nearly $12 million; approximately 1,470 new jobs have been created.
"Keep in mind some of these loans have a job retention component that allowed for the company to keep current payroll levels and add to them as a result of the loan approvals," Ebbing explained.
County commissioner Rick Muhlenkamp pointed out that each loan is approved by a revolving loan board prior to approval by commissioners. Several members of the board are professionals in the lending business, he said.
"It really helps us to be more confident in our decision," Muhlenkamp said.
The Ohio Development Services Agency administers the Community Development Block Grant economic development funds to each county, state spokeswoman Penny Martin said. Mercer County's program is "one of the larger, more active funds in the state," she said.
Each year the state awards about five substantial economic development grants to applicants. Mercer County has aggressively pursued the funds and in recent years received at least one, sometimes two, annually, Ebbing said.
The average number of active revolving loans in all Ohio counties in June was six.
Mercer County at the time boasted 34, Martin said.
Some of the more visible projects supported by loan dollars recently are the establishment of Dunham's Sports and Ferguson Enterprises in Celina, and Perham Egg in Fort Recovery.
County commissioner John Bruns said the loan program gives businesses an opportunity to grow.
"Without it, I think some wouldn't be able to swing it," he said.
Commissioner Jerry Laffin said the program is probably more beneficial for "mom and pop" businesses.
"I've been involved with this since the day it started. Some of these businesses it helped started out in basements, garages ... it's very difficult to start up like that," he said.
Laffin said private lenders support the revolving loan program and often encourage small businesses to apply.
The county's loan program began with $30,000 - a portion of CDBG dollars received that year, Laffin said.
Kim Nation, co-owner of The Potter House and adjoining Java Nation in downtown Celina, said the county's revolving loan fund is a comfort to small businesses like hers.
"It's nice to see the county support us, knowing that somebody's behind you, believes in you," she said.
In 2009, Nation was awarded a seven-year, $20,000 loan to expand and open Java Nation, a coffee house nook that offers dining/carry-out service, entertainment, a meeting room and retail items.
The economy at the time was struggling and private loan interest rates were higher than the 3.5 percent Nation snagged from the county, she said.
"It put me through a very difficult time," she added.
Auglaize County also has a revolving loan fund but it is managed by Anchor Financial of Lima, not local officials, according to Greg Meyer, executive director of the Wapakoneta Area Economic Development Council. Neither has the resources that have made Mercer County's program so successful, he said.
The last big revolving loan distributed in Auglaize County was for $600,000 and took place seven years ago, he said. But things are picking up; Wapakoneta officials recently approved a $100,000 revolving loan to help establish a Happy Daz restaurant in the city along state Route 501, Meyer said.
"We're trying to do as many (loans) as we can do. It really helps the community," he added.
Not all revolving loans end on a happy note.
In the 28 years since the program began in Mercer County, 11 loans totaling $1.8 million have fallen into default - all prior to the recent recession, Ebbing said. The county to date has recovered $500,000.