Thursday, February 13th, 2014
Weitzel wins district title, Five other local divers qualify for next week's state meet
Division II District Diving
By Gary R. Rasberry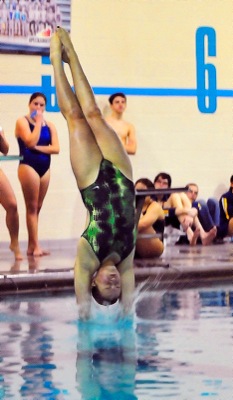 Celina freshman Sawyer Weitzel made a big splash at the Division II district diving competition at Oak Harbor on Wednesday.
Weitzel set a school record for points while capturing the district championship and advancing to next week's state meet in Canton.
"My first two dives were kind of bad. I kind of got nervous," said Weitzel via telephone. "Dave (Celina diving coach Dave Koesters) came over and told me 'Don't worry, you've got this.' Things got better."
Weitzel's score of 375.15 broke the old record for 11 dives of 366.90 set by Sara Knapke in 2004.
"I was so excited," said Weitzel. "I look up to Sara so much. Just to know that I could beat her record made me really happy."
Weitzel started a Grand Lake sweep of the top three spots on the podium. St. Marys' Madison Taylor will make her second trip to state after finishing second with a score of 368.15 while Celina's Olivia Schlotterer makes her third trip to state by taking third place with 353.65 points.
"Olivia has been battling a foot injury she had right before sectional," said Koesters. "She dove well."
Sophomore Trinity Voisin just missed on being the third Celina girl to qualify for state, placing 10th with 325.45 points, just 3.30 points behind the ninth-place finisher and final qualifier for state.
Coldwater's Shannon Osterfeld placed 14th with 317.15 points while St. Marys' Allison Sandberg was 17th with 218.85 points.
The ladies will be joined by a pair of Celina divers and Coldwater's Caleb Keck, who came up with a strong day to finish second in the boys' diving competition.
Celina's Chandler (C.J.) Kimmel finished fourth with teammate Jake Browder claiming the ninth and final spot to move on to Branin Natatorium.
Boys' scores were not released as of press time.
"C.J. had his personal best, as well as Jake," said Koesters.
Local swimmers will compete in district action at Cleveland State University on Friday.
State diving will take place next Wednesday. The boys will dive at 9 a.m. with the girls competing at 2 p.m.