Tuesday, March 11th, 2014
Crash claims life of Celina woman
By Margie Wuebker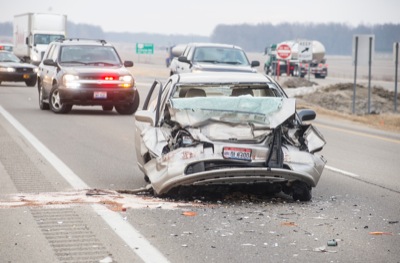 A 40-year-old Celina woman was killed this morning when her car struck the rear of a mobile crane along state Route 29 near Harris Road.
Heather McCormick, 7495 Staeger Road, was pronounced dead at the scene by Mercer County Coroner Dr. Timothy Heinrichs.
Mercer County Sheriff's deputies responded to the scene east of Celina shortly before 7 a.m.
Bryan Hirschfeld, 62, of Celina, reportedly stopped the crane southbound at the Harris Road stop sign. He then pulled westbound onto the highway and was struck from behind by McCormick's westbound 2003 Honda.
Hirschfeld, who did not appear to be injured, called 911 to report the crash and said the other driver was trapped inside her vehicle.
Chief deputy Gery Thobe said both drivers were alone in their vehicles at the time of the crash. The investigation was continuing at press time today.
Deputies were assisted at the scene by Celina Fire Department, Celina Emergency Medical Services and the Ohio State Highway Patrol.
Thobe said one lane of the highway remained closed for several hours until the wreckage was removed. Units cleared the scene about 9:30 a.m., he said.
The accident is the county's first traffic fatality of 2014, he said.