Tuesday, April 22nd, 2014
By Shelley Grieshop
Cormorants increasing at Grand Lake
Invasive birds considered threat to other species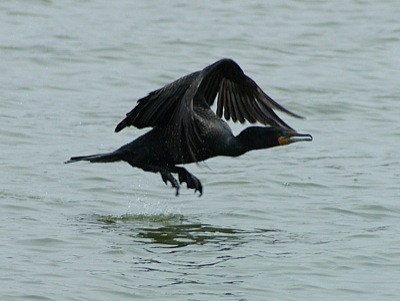 CELINA - State wildlife officials are closely monitoring the increasing number of double-crested cormorants at Grand Lake to ensure the invasive waterfowl doesn't wipe out other species.
The birds' droppings are toxic to trees and vegetation, and their hearty appetite can reduce fish populations, according to the Ohio Division of Wildlife.
Wildlife staff last year counted 80 nesting cormorant pairs - up from 30 in 2012 - at the 13,500-acre lake.
"Grand Lake's (population is) pretty high above our target number," state wildlife habitat coordinator Dave Sherman said Monday.
He'd like to see no more than 20 nesting pairs at the lake when the next census is conducted this year, he said.
"We won't be doing nest counts again until June and July, so we don't know yet what we've got," Sherman said. "Hopefully, most of the ones out there right now are migrating birds heading up to Canada. But it's kind of late for that."
Cormorants, which make soft croaks or grunts, have dark brown or black plumage with a dull, green sheen and a yellow-orange beak. They typically lie low in the water with only their long, black necks visible before diving to great depths for fish.
The birds breed between April and August and, on average, produce clutches of four eggs. Adults eat a pound or two of fish per day and their prolific droppings are high in ammonia. Large flocks can decimate wooded areas where great blue herons and egrets nest.
"We know they're nesting on Safety Island where there is a heron rookery," Sherman said. "If the trees are gone, the herons will leave."
Other local species at risk for eradication by the cormorants' presence include the great egrets and snowy egrets that settled in the Grand Lake area a few years ago, he said.
"You've also got a few black-crowned night herons at the lake," he said, explaining those birds are rare and considered a threatened species in Ohio.
Cormorants nest in trees like herons but will lay their eggs on the ground if necessary, Sherman added.
The population of the "sea crow," as they are called, has decreased in Ohio from 5,000 nesting pairs in 2011 to 3,800 in 2013, he said. They were nearly wiped out of the Lake Erie region prior to 1990 due to industrial pollution. However, environmental-protection laws passed by the United States and Canada gradually allowed their numbers to rebound, according to the Division of Wildlife.
Mort Pugh, superintendent at the St. Marys State Fish Hatchery, said pesky cormorants in past years invaded the ponds along state Route 364 and aggressively fed on the fish used to stock waterways.
"They were mainly in the minnow ponds, but they got into the others, too," he said.
Hatchery officials contacted the U.S. Fish and Wildlife service in 1997 and obtained a permit to shoot the cormorants when they become a problem, Pugh said. The permit allows the staff to shoot up to 200 birds a year, he added.
A report listing the number of birds killed, the estimated value of the fish eaten and other information must be filed annually, Pugh said.
He hasn't considered the cormorants an issue the last few years but he is on guard, he said.
"We try early on to discourage them from hanging around before the problem gets out of hand," he said.
Additional online stories for this date
Print edition only stories for this date
• Lawyers say Sanders can't be given life sentence
• Council poised to move ahead with tax repeal
• Celina police keeping eye on bars
• Superintendent: District to control school curriculum
• Fort man seeking early release
• Mercer County posts lowest unemployment in the state
• Panthers roll past Flyers
• Track teams heating up at midway point
• Wildcats shut down Lady Cavs
• Redskins score late to beat Indians


Online Video

Photo Albums
Friday, August 29

Friday, August 29

Friday, August 29

Friday, August 29