Tuesday, April 22nd, 2014
Cavaliers hold off late Celina run
By Gary R. Rasberry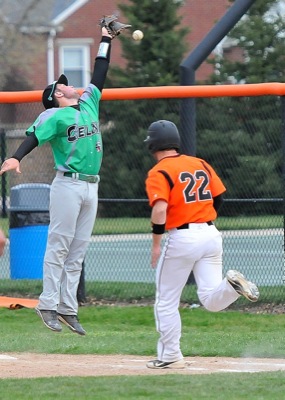 COLDWATER - As well as he was throwing, Greg Gilliland could have easily earned a complete game shutout against Celina on Monday.
The Coldwater junior went six-plus innings as four Coldwater errors contributed to four unearned runs.
The Cavaliers held off a late charge by the Bulldogs to take a 6-4 win in Mercer County baseball action at Veterans Field.
Coldwater (9-1) won their ninth in a row after losing their season opener. Celina drops to 8-6.
Gilliland left after 100 pitches (61 for strikes) in the top of the seventh after Damon Smith reached on an error. Gilliland allowed just four hits, walked three and struck out five. The three runs he gave up were all unearned as four Cavalier errors, all coming at third base, contributed to the runs.
"First thing I said after the game was 'Greg, you should have had a shutout,' " Coldwater coach Brian Harlamert said. "He pounded the zone, got ahead of hitters and got guys out. All four runs were (from) mistakes from our third basemen. (They) couldn't quite make plays. ... Greg did a great job hitting the spots."
Coldwater gave Gilliland an early lead as Celina starter Jacob Homan struggled early. Mitch Heyne led off the bottom of the first inning with a double, followed by Brody Hoying getting hit by a pitch and Malave Bettinger drawing a walk to load the bases for Grant Muhlenkamp.
Homan unloaded a wild pitch. Heyne scored easily, but the speedy Hoying was right behind as the throw to get Heyne was off the mark, allowing Hoying to score. After Muhlenkamp struck out, Drew Otten singled in Bettinger to make it 3-0 after the first.
"It took time for Jacob to settle in," Celina coach Andy Mikesell said. "You have a young pitcher like that (Homan being a sophomore), being a number three or four pitcher, it's good to get him in a big game like this. I knew going in that Coldwater is a fastball-hitting team. (Homan) couldn't control his off-speed (pitches) until later. He did that later. He threw well."
Homan did settle down a little, allowing just just three more runs (two earned) and seven hits over the final five innings he pitched. Homan walked just one and struck out two.
"The good start helped," Harlamert said. "Homan threw pretty well and mixed it up after he got through the first inning."
Gilliland had a no-hitter until the fourth when Brandon McGillvary singled with one out after Homan reached on an error. Jimmy Luebke ended the shutout with a double to left to score Homan.
Cody Vogel singled in Skyler McCarter in the fifth to make it 5-2 before Coldwater scored its final run in the bottom of the sixth.
After Smith reached in the top of the seventh for Celina, Harlamert brought on Heyne to close things out. After Kaleb Kuhn made the first out on a fly to right to move Smith to third, Homan lofted a deep fly to center to plate the run. Vogel followed with a single to bring up McGillvary, who was hit on an 0-2 pitch. Justin Keeling singled to load the bases for Luebke, who lined a shot to third that was misplayed to score Vogel and bring up Cole Loughridge with the go-ahead run at first. Heyne ended the game by getting Loughridge to ground to third.
"You always want a chance to win the game," Mikesell said. "You can't ask for much more. Too big of a hole to crawl out of."
Hoying and Kramer went 2-for-3 for the Cavaliers with Hoying scoring two runs.Vogel was 2-for-4 for Celina.
Both teams are in league play tonight. Celina hosts defending Division II state champion Defiance, which enters having won 70 straight WBL games. Coldwater is back at Veterans Field to take on the St. John's Blue Jays.